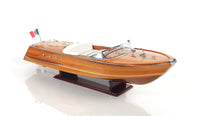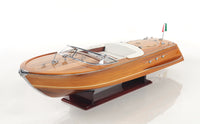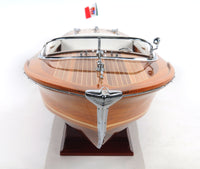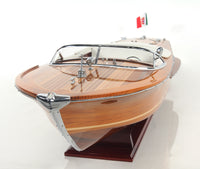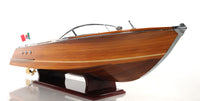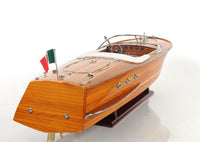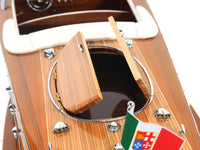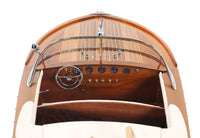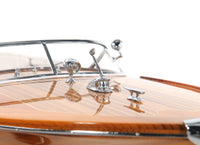 Riva Ariston Model Boat
This is an exclusive, hand crafted edition of the Riva Ariston. Beautifully built using rosewood, mahogany and teak using a plank on frame method similar to the building of full size boats. Each strip of exotic wood is carefully joined together to form a smooth hull. 
The model boat has a lustrous color of white and varnished red wood on the side of the hull. On the top, you can spot gorgeous glossed red and natural wood trims along with others amazing details such as all white leather seats, colorful navigation gauges, shiny metal steering wheel, metal horns, metal control consoles, metal rails surrounding the boat, clear windshield with metal frames, unique storage space with opening/closing doors and much more. All these designs and detailed ornaments and chrome brass fittings contribute to the luxurious wooden Riva Ariston. In addition, a detachable wooden stand comes standard with this model. 
Dimensions: 35" length x 9" width x 10" tall 
A portion of all sales are donated to help end violence against women. We sincerely thank you!