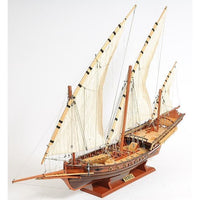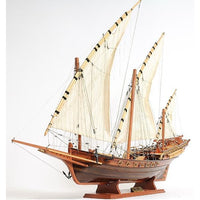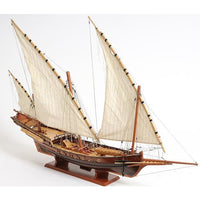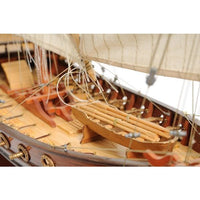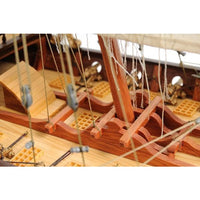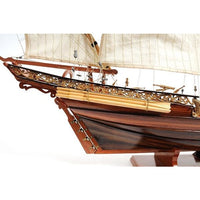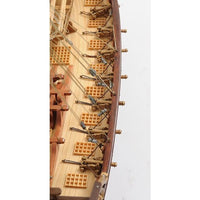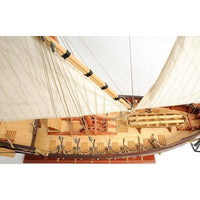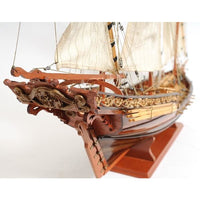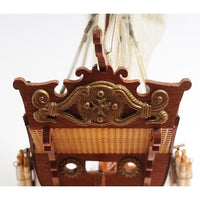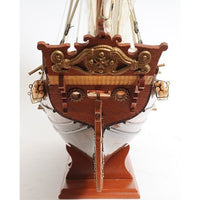 Xebec Pirate Ship, Model Boat
The Xebec was a widely used ship by Barbary pirates in the Mediterranean Sea. They are built for speed by having a narrower floor than most tall ships.

Completely crafted by hand, this highly detailed ship was built using historical photographs and drawings. Built with western red cedar, rosewood and mahogany woods, this model sailing ship is constructed using plank-on-frame construction methods, that which is similar to the building of actual ships. 

The Xebec has three masts with an elaborate display of riggings. There are gold coated metal cannons around the hull. The extended stern is the most captivating part of this model. There is an miniature wooden rowboat on the deck with oars and the elongated bowsprit of the Xebec makes it really stand out as a beautiful ship. You can find dozens of detailed sculpture and ornaments throughout the Xebec.

This model come with an attached wood base with a brass nameplate. 
Dimensions: 35" length x " width x 27" tall
A little history:
The three masted Xebec was used for centuries in the Mediterranean as a merchant ship because of its speed and shallow draught. It was not long before Corsairs, the pirates of the Mediterranean, decided on the Xebec as their vessel of choice for lightening fast attacks on heavier merchant ships. With its fourteen cannons slug low in the waists, the Xebec would hole her prey just inches above the waterline making escape impossible. Six culverins were mounted along the poop deck for close action or just in case the crew tried to mutiny. Oars were used when the wind failed giving the Xebec the upper hand in attacking other vessels or fleeing the authorities.
A portion of all sales are donated to help end violence against women. We sincerely thank you!