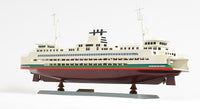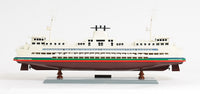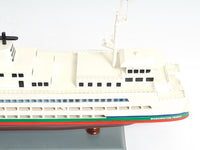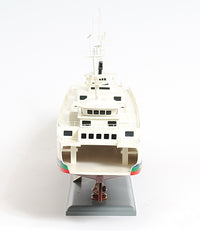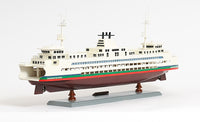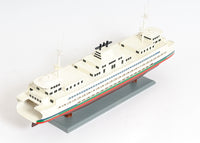 Washington Ferry Model Boat
This gorgeous model of the Washing ferry is hand painted in its original colors of brown, red, green, teal, and white. The construction is a see-through 3-D ship body from front to back and side to side, countless windows on three decks and the first deck's window is tinted in blue, Finished with wooden stairs, wooden navigation towers, metal fences around the top deck, painted windows, "Spokane" imprinted in white on both side on the front and back of the ship, and along with many more exclusive ornaments. This beautiful model is rested on a painted wooden stand with two firm crafted wooden frames sustaining it. This model is completely hand built using original plans and pictures. This wooden model boat is shipped fully-assembled and ready to be displayed. No assembly required.
Dimensions: 25" length x 5" wide x 11" tall
A little history:
Washington State Ferries is a passenger and automobile ferry service owned and operated by the Washington State Department of Transportation that serves communities on Puget Sound and in the San Juan Islands. It is the largest passenger and automobile ferry fleet in the United States and the third largest in the world by fleet size. The service is also the largest in the world based on the number of vehicles carried, having carried 11 million annually.
A portion of all sales are donated to help end violence against women. We sincerely thank you!