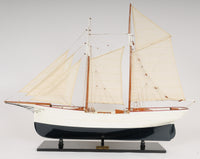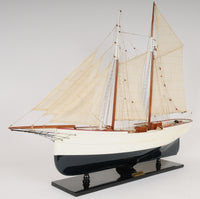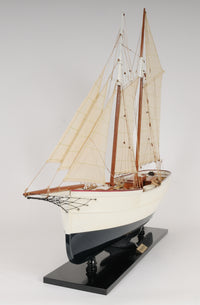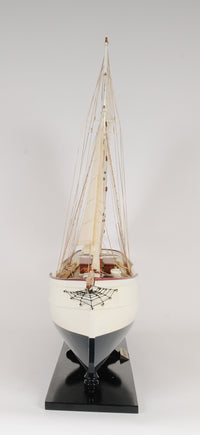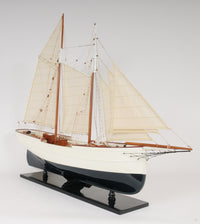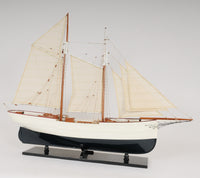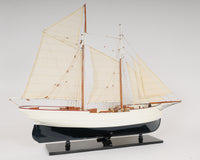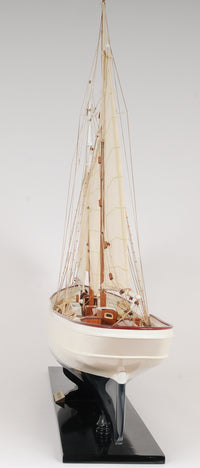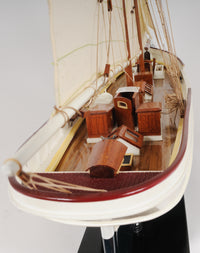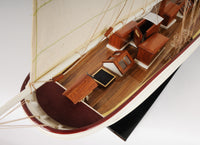 Wander Bird Model Boat
The epitome of coastal style, this is a gorgeous model schooner of the German made Wanderbird. Hand crafted from from Mahogany and painted in white and very dark blue, almost black. This replica has magnificent details including metal steering wheel, skylight, deck houses, advanced intricate rigging, full cloth sails with detail stitching, wood inlay deck and many more. Assembled on a solid wood base with metal nameplate.
Dimensions: 38" length x 7" depth x 29" tall
A little history:
Built as the pilot schooner "Elbe 5" after a design by Gustav Junge at the H.C. Stlcken & Sohn shipyard in Hamburg, Germany in 1883, it retired from pilot service in 1924 and purchased by author Warwick Tompkins in 1928. In 1929 it was commissioned as a cruising yacht and sail training vessel, and was renamed the "Wander Bird". In 1936 Tompkins sailed her around Cape Horn to San Francisco Bay. After a voyage to Tahiti, Tompkins laid the schooner up in Sausalito, California in 1941 where she became a houseboat.
After some unsuccessful trials to sell her back to Germany she departed Sausalito for Seattle in October 1998, the new owners Jim Flury and David Cook intended to offer charter cruises in Mexican waters but instead chartered her to a non-profit group in Seattle to serve as a sail training ship and goodwill ambassador for the city, this program never got started but the schooner remained in Seattle.
A portion of all sales are donated to help end violence against women. We sincerely thank you!