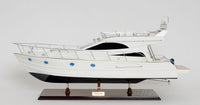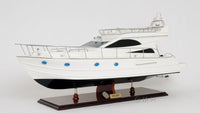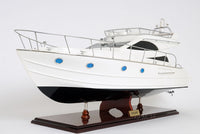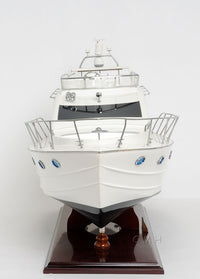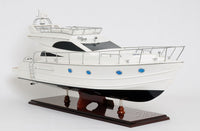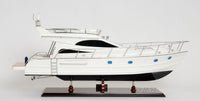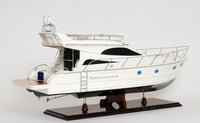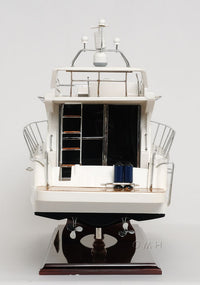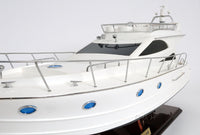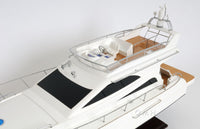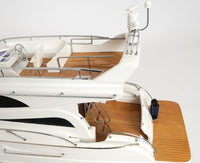 Viking Sport Yacht Cruiser, Model Boat
Admire this handcrafted model yacht, the Viking Sport Cruiser in your home. Or what a great gift this would make for the sailor in your family. Crafted from beautiful woods such as rosewood, mahogany and teak, this model boat is painted in antique white with an outer coat of clear vanish.
The hull is constructed using traditional plank on frame method as in the building of real boats. Each strip of exotic wood is carefully joined together to form a smooth hull. Admire the eye catching details such as the metal ladder with wooden step, tinted window in dark limo color, painted oxygen tank, painted wooden seat, colorful navigation dashboard, shiny metal steering wheel, metal horns, metal rail surrounding the cruiser, metal and wooden antennas, and metal rings with center in blue surrounding the hull of ship.
This cruiser comes fully assembled on a beautiful wooden stand with thick metal poles to support the weight. 
Dimensions: 36" length x 12" wide x 19" tall
A little history:  The Viking Sport Cruiser is elegant and sophisticated which breaks new ground in motor yacht design. With eye appealing curves and performance pleasing turbo diesel power, the new 67 Motor Yacht combines form and function into a delightfully exciting blue water cruiser. The sleek exterior is accented with an abundance of sea keeping amenities. Teak planked decks and molded bridge steps, polished stainless steel hardware, bulwarks and windlass are mega-yacht caliber.
A portion of all sales are donated to help end violence against women. We sincerely thank you!