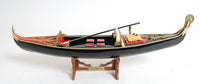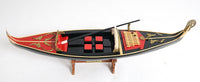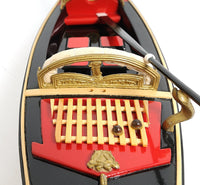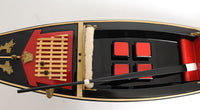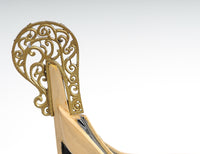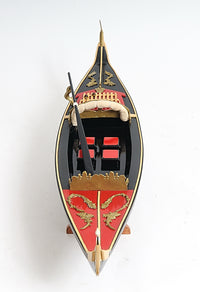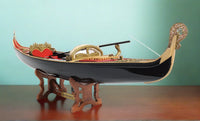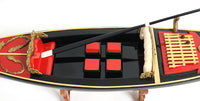 Venetian Gondola Model Boat
The Venetian gondolas around the 17th century were commonly used for transportation around the Grand Canal in Venice. Today, they are used as an iconic boat for mostly tourism. 
This beautiful model gondola is handcrafted using high-grade wood such as western red cedar, rosewood, and mahogany. The hull is beautifully painted in black and then varnished in several layers. The deck is decorated with several golden sculptures and the seating is painted in red. This model boat gondola has a gold plated ornament at the bow. The model comes with one black painted oar. A hand stitched pillow casing is tied up against the cockpit on the opposite of the red wooden seat and there is a wooden platform for the gondolier to stand on.

This model also come with a wood base with a brass nameplate, fully assembled.
Dimensions: 23" length x 8" tall x 6" width
A little history:
The most famous and characteristic symbol of Venice is the Gondola. This boat represents a typical Venetian Gondola circa 1882. The gondola is a traditional, flat-bottomed Venetian rowing boat, well suited to the conditions of the Venetian lagoon. For centuries gondolas were the chief means of transportation and most common watercraft within Venice. In modern times the iconic boats still have a role in public transport in the city, serving as traghetti (ferries) over the Grand Canal. They are also used in special regattas (rowing races) held amongst gondoliers. The gondola is propelled like punting, except an oar is used instead of a pole. The model now is rebuilt without the roof in the middle of the boat and used to carry tourists along the Venice River in Italy.
A portion of all sales are donated to help end violence against women. We sincerely thank you!