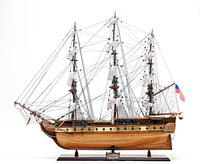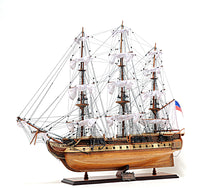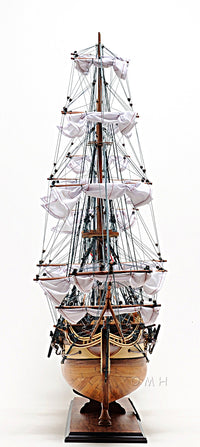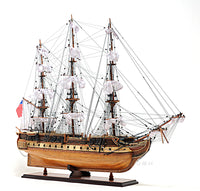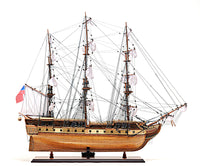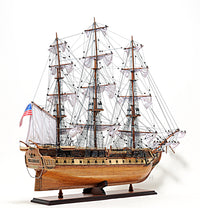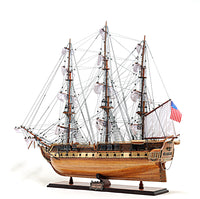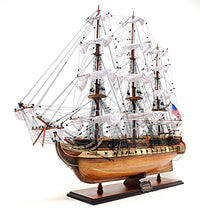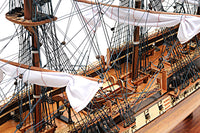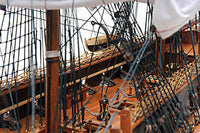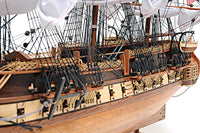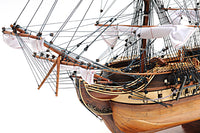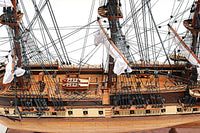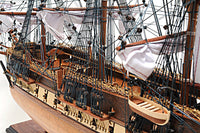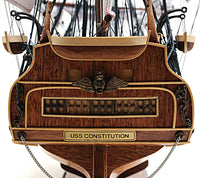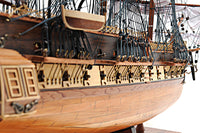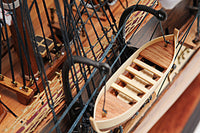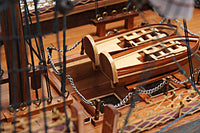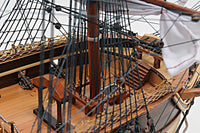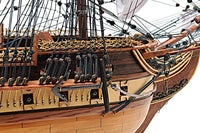 USS Constitution Model Ship, 29" Length
This gorgeous model of the U.S.S. Constitution is a legend in the War of 1812. Fully assembled, this handcrafted ship is an "Exclusive Edition" where the model has a unique serial number etched into the hull, allowing for identification of production date and material used. Highly detailed, this ship uses western red cedar, rosewood, and mahogany and are hand built using plank-on-frame construction method which is similar to the building of actual ships. 
This amazing model of the USS Constitution features plank on frame, two decks, and one stretched ferocious row of metal cannons on each side of the ship. The front bowsprit and three large masts are connected securely using advanced rigging and lines painstakingly knotted and fastened by hand. Each yard has an attached hand-stitched rolled-up sails made of fine linen. The glorious American flag are attached to the mizzen yard. Metal anchors and a wooden rudder are visible on the front and rear of the ship. On the deck, there are authentic hand-built lifeboats with ribs and planks, stationed metal cannons, metal steering wheels, metal bell, captain's dining and sleeping cabin, and many other handcrafted ornaments. There is also an exquisite detailed admiral's quarter on the stern with beautiful decorative brass ornaments.
Dimensions: 29" length x 10" wide x 25" tall
A little history:
The U.S.S. Constitution, a three-mast frigate, is the world's oldest commissioned warship. Built primarily with dense southern live oak, its hull was 21 inches thick in an era when 18 inches was common. Paul Revere forged the copper spikes and bolts that held the planks in place. The 204-foot-long ship was first put to sea in 1798 and its most famous era of naval warfare was the War of 1812 against Britain, when it captured numerous merchant ships and defeated five warships, including the H.M.S. Guerriere. It was during the ferocious battle with the Guerriere that British seamen, astonished at how their cannonballs were bouncing off the Constitution's hull, cried out, "Sir, Her sides are made from Iron!" Hence, the nickname, "Old Ironsides." The Constitution today is a national landmark and is currently docked in Boston.
A portion of all sales are donated to help end violence against women. We sincerely thank you!