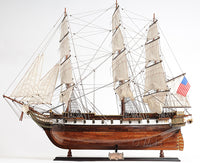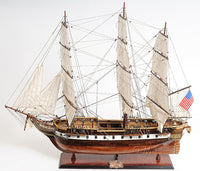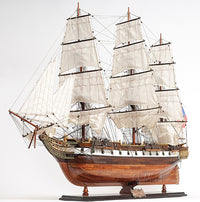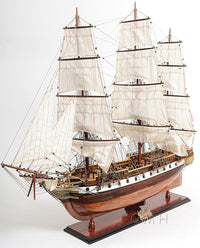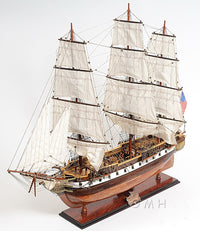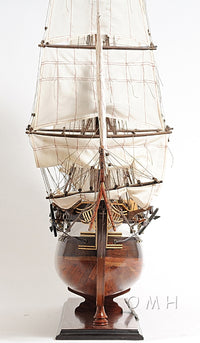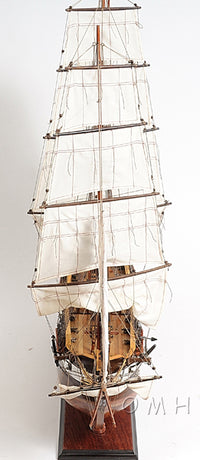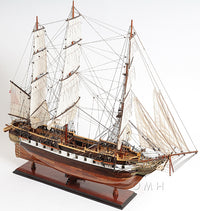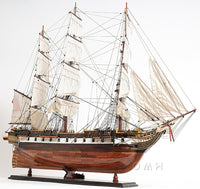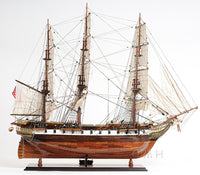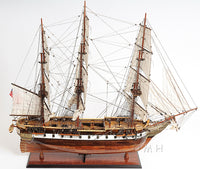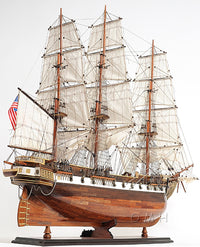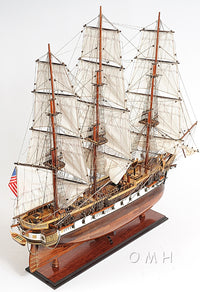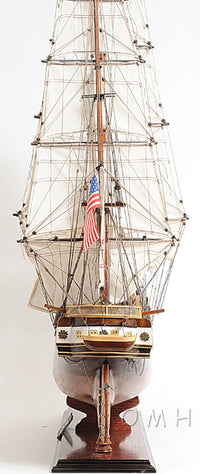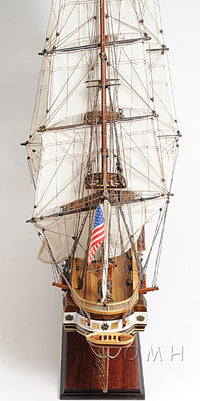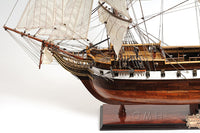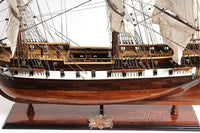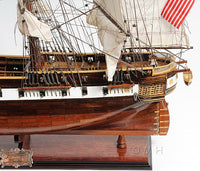 USS Constellation XL Model Ship
This extra-large model of the U.S.S. Constellation, the last sail-only warship built by the U.S. Navy, is constructed with museum-quality materials to scale, including western red cedar, rosewood, and mahogany, and is assembled entirely by hand.
This amazing model of the USS Constellation features plank of frame hull, two decks, and one stretched ferocious row of metal cannons on each side of the ship. The front bowsprit and three large masts are connected securely using advanced rigging and lines painstakingly knotted and fastened by hand. Each yard has an attached hand-stitched rolled-up sails made of fine linen. The glorious American flag are attached to the mizzen yard. Metal anchors and a wooden rudder are visible on the front and rear of the ship. On the deck, there are stationed metal cannons, metal steering wheels, wood ladders and crane, captain's dining and sleeping cabin, and many other handcrafted ornaments. There is also an exquisite detailed admiral's quarter on stern with beautiful decorative brass ornaments and an authentic hand-built lifeboat with ribs and planks.
Dimensions: 56" length x 11" width x 50" tall
A little history: 
On 27 March 1794, the United States Congress passed the Naval Act of 1794, which provided for building the US Navy its first new ships: the frigates Chesapeake, Congress, Constellation, Constitution, President, and United States. Constellation was the first to be commissioned. Constellation was built at Harris Creek Shipyard in Baltimore's Fells Point and launched on 7 September 1797, just as the United States entered the Quasi-War with France. On 9 February 1799, under the command of Captain Thomas Truxtun, Constellation fought and captured the frigate L'Insurgente of 36 guns, the fastest ship in the French Navy — the first major victory by an American-designed and built warship. In February 1800 Constellation fought a night encounter with the frigate La Vengeance of 54 guns. Constellation was victorious after a five-hour battle. The French commander just managed to save his ship from capture and -upon returning to port- was so humiliated he later boasted that the American ship he had fought was a much larger and more powerful ship of the line. Since the encounter, the Constellations incredible speed and power inspired the French to nickname her the "Yankee Racehorse".
A portion of all sales are donated to help end violence against women. We sincerely thank you!