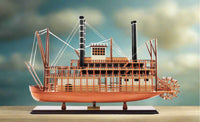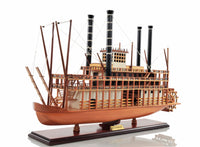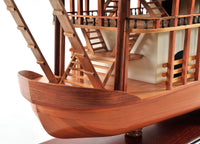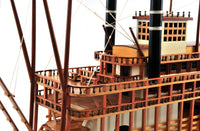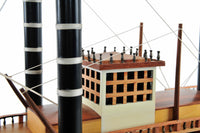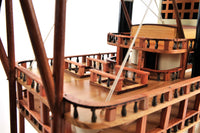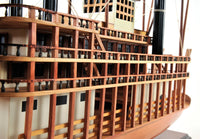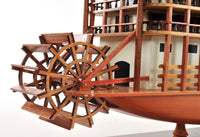 The King of Mississippi Model Steam Boat
The King of Mississippi was a famous steam powered boat that sailed throughout the Mississippi River and was featured in Mark Twain's novels, Tom Sawyer and Huckleberry Finn.
This stunning model size is incredibly detailed using historical photographs, drawings and original plans, using beautiful natural woods of western red cedar, rosewood, and mahogany. Completely hand built, this model boat includes a four level deck with numerous details including the wooden steam propeller on the back.
There is an opening on the first deck where you can look inside the cabin. Each deck floor has its own stair to lead you up or down. The railings are made out of metal that can be seen on each floor. Four black smoke stacks are on the third and fourth deck. The model boat is secured tightly on a solid wooden base with a brass nameplate.
Dimensions: 30" length x 7" depth x 17" tall
A little history:
King of Mississippi Paddlewheel Steamboat reminds us of Mark Twains famous literary characters, Tom Sawyer and Huckleberry Finn. Mississippi riverboats were jacks-of-all-trades. They served as the lifeline for cotton and inland trade, towed barges and ferried railroad trains across the river. As passenger boats, they helped to shrink the vastness of America, and as showboats, they made that vastness a little less lonely. King of Mississippi was the very first one of this type in the United States.
A portion of all sales are donated to help end violence against women. We sincerely thank you!