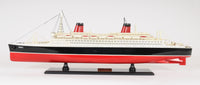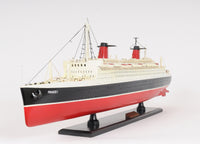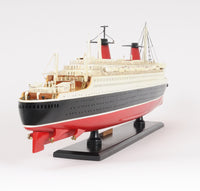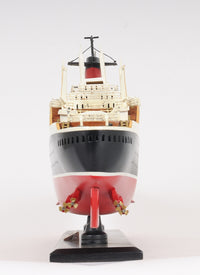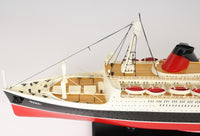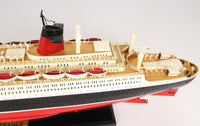 SS France Model Ship
The SS France was the longest ocean liner built in 1960. This stunning handcrafted model ship is highly detailed using using historical photographs, drawings and original plans. Beautiful woods of western red cedar, rosewood, and mahogany are used with plank-on-frame construction methods that are similar to the building of actual ships. 

The SS France meticulous and gorgeous details include multiple wood decks, hundreds of open windows, lifeboats, rudders, metal anchors, wooden stairs, painted smoke stacks, and intricate rigging. The model is painted in red, white, and black to replicate the original ship colors. 

This ship model is secured tightly on a black solid wood base with a brass nameplate.
Dimensions: 32" length x 4" width x 11" tall
A portion of all sales are donated to help end violence against women. We sincerely thank you!