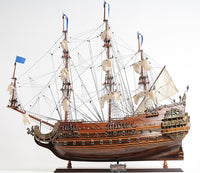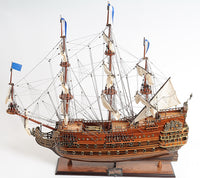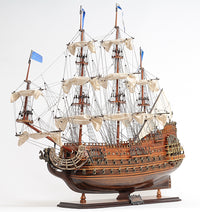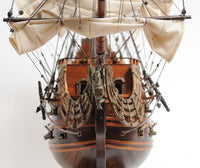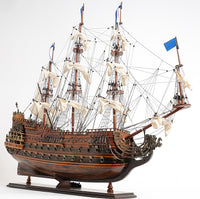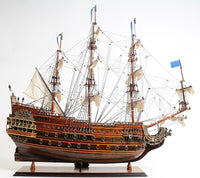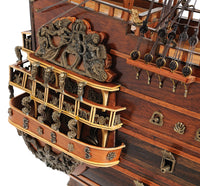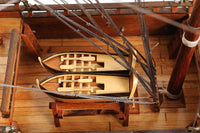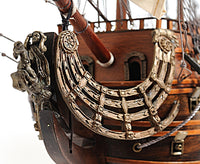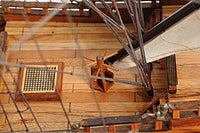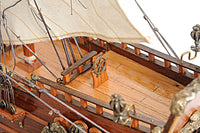 Soleil Royal Model Ship, Numbered Exclusive Edition
Impressively crafted by hand, this fully assembled model ship is museum-quality! The Soleil Royal is a replica of the most impressive tall ship ever in the French Navy. Built for King Louis XIV in the late 1600s, the 112-gun "Sun King" was decorated with woodcarvings of the French monarch and was the symbol of grace and ability. 

From historical photographs and drawings, this model ship is hand crafted to scale using a blend of western red cedar, rosewood, and mahogany wood. Using plank-on-frame construction methods that are similar to the building of actual ships, the details are exquisite.

This beautiful Soleil Royal model features plank on frame, three decks, and two rows of ferocious cannons on each side of the ship. A unique bowsprit design that consists of brass statues, crafted metal panels, and open metal doors that lead into the ship cabin. The front bowsprit and three large masts are connected securely using advanced rigging and lines painstakingly knotted and fastened by hand. Each yard has attached hand-stitched rolled-up sails made of fine linen. Metal anchors and a wooden rudder are visible on the front and rear of the ship. On the deck, there is a metal steering wheel, authentic hand-built lifeboats with ribs and planks, wooden ladders, wooden barrels, wooden windlass, and many other handcrafted ornaments. There is also an exquisite detailed admiral's quarter on the stern with beautiful handcrafted metal lanterns, amazing metal crafted statues, and many detailed brass ornaments.

This model comes standard with a solid wood base and brass nameplate. Fully assembled.

Dimensions: 28" length x 10" width x 27" tall

A little history: 
Soleil Royal (Royal Sun) was a French 104-gun ship of the line, flagship of Admiral Tourville. She was built in Brest between 1668 and 1670 by engineer Laurent Hubac, was launched in 1669, and stayed unused in Brest harbour for years. She was recommissioned with 112 guns and 1200 men when the Nine Years War broke out in 1688 as the flagship of the escadre du Ponant (squadron of the Ponant).
She was said to be a good sailing ship and her decorations were among the most beautiful and elaborate of all baroque flagships. The emblem of the "sun" had been chosen by Louis XIV as his personal symbol.
A portion of all sales are donated to help end violence against women. We sincerely thank you!