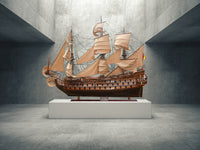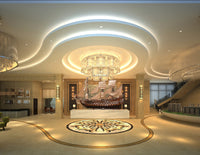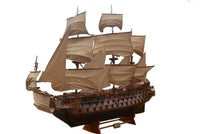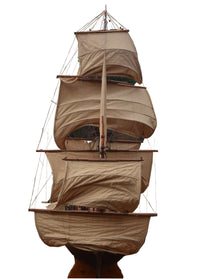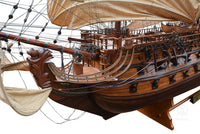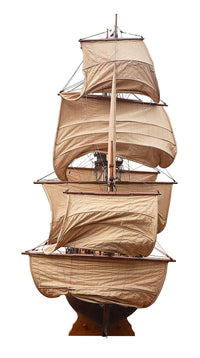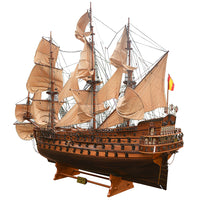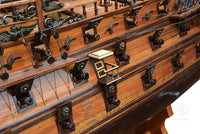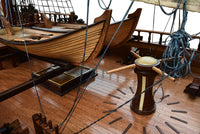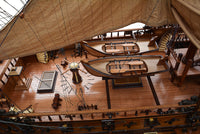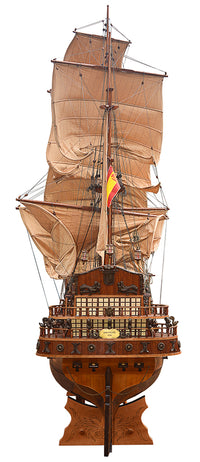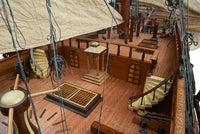 San Felipe 13 Foot Long Museum Quality Limited Edition Model Ship
This stunning 13 foot long museum-quality replica of San Felipe Spanish galleon of the XVII century was specifically commissioned for a museum in Europe. It is now available for anyone to own and admire!
This massive San Felipe model features plank on frame construction method similar to the building of real ships, three decks, and three rows of ferocious cannons on each side of the ship. The unique bowsprit design consists of brass statues and crafted brass ornaments on the panels. The front bowsprit and three large masts are connected securely using advanced rigging and lines painstakingly knotted and fastened by hand.
Each yard has an attached hand-stitched rolled-up sail made of fine linen. Metal anchors and a wooden rudder are visible on the front and rear of the ship. On the deck, there are metal stationed cannons, authentic hand-built lifeboats with ribs and planks, wooden cabin, and many other handcrafted and meticulous ornaments. There is also an exquisite detailed admiral's quarter on the stern with a beautifully handcrafted metal lantern, amazing metal crafted statues, and many other spectacular brass ornaments.
This model comes with a solid wood base and brass nameplate. 
Dimensions: 157.48" length x 39.37" wide x 129.92" tall
Important Note: This model is a SPECIAL ORDER item which means that after you place the order, it will take about 60-120 days for this to be built and shipped to you. We will keep you updated of the process at every step. 
A little history:
The San Felipe, launched in 1690, was one of the most beautiful Spanish galleons of the XVII century. She was the lead ship of the famous Spanish Armada. The San Felipe displaced more than 1000 tons and was armed with 96 cannons, enabling her to take on the most formidable ships in the French and British navies. The San Felipe's role in the war against the British and French was to help protect Spanish settlements and harbors, to transport treasures, and to safeguard the long and hazardous passage back to Spanish ports. In 1705, the San Felipe participated in a furious and heroic battle between 12 Spanish ships and 35 British ships. After 24 hours of battle, she was captured by an English ship but was so badly damaged that she could not be salvaged as a prize. She went down to the bottom of the ocean with several tons of gold.
A portion of all sales are donated to help end violence against women. We sincerely thank you!