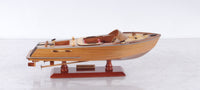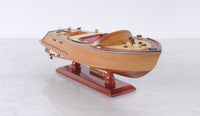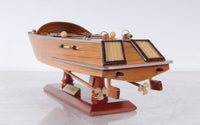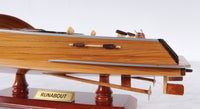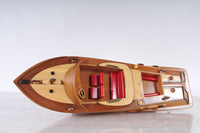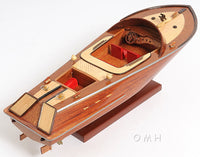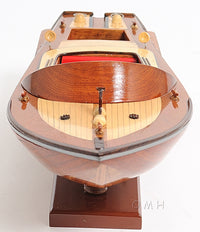 Runabout Canoe Model Boat
This handmade model runabout canoe is filled with details and ornaments that are crafted from mahogany and exotic woods. Perfect for your coastal decor, this model boat has wooden and metal knick-knacks such as steering wheel, seats, lights, canoe propeller, and many more. The model boat sits on a wooden stand and is ready to be displayed on your favorite mantel or table top. No assembly required.
Dimensions: 16" length x 5" width x 5" tall
A little history:
The "wooden runabout boat" we know today did not exist prior to the early part of this century, and, for the most part, ceased to be built shortly after its heyday of construction during the mid-1950s. Today, only small numbers of all-wood runabouts are built. The runabout is characterized by the all-wood construction of its hull (whether it is painted or stained and then varnished, and whether its deck is all-wood as well, or canvas-covered), and its inboard motor.
A portion of all sales are donated to help end violence against women. We sincerely thank you!