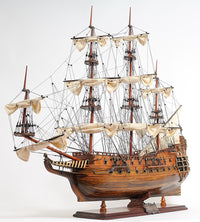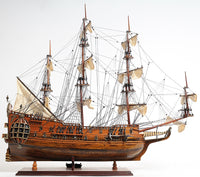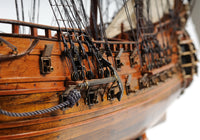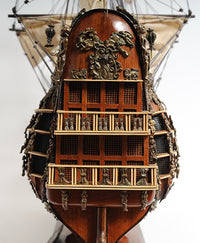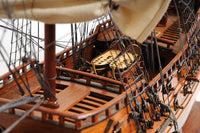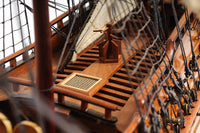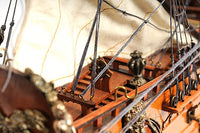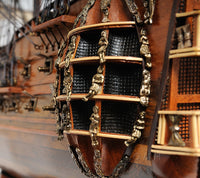 Royal Navy HMS Fairfax of Commonwealth of England Model Ship
The Fairfax, built by Peter Pett I at Deptford and launched in 1650 is a gorgeous, hand crafted model ship. Using woods such as western red cedar, rosewood, and mahogany, this model ship is crafted using plank-on-frame construction methods similar to the building of actual ships. 

The HMS Fairfax model features plank on frame, three decks, and two rows of ferocious metal cannons on each side of the ship. The front bowsprit and three large masts are connected securely using advanced rigging and lines painstakingly knotted and fastened by hand. Each yard has an attached hand-stitched rolled-up sails made of fine linen.. On the deck, there are authentic hand-built lifeboats with ribs and planks, metal captain's steering wheel, metal lanterns, wooden capstan, wooden cabin, and many other handcrafted ornaments. There is also an exquisite detailed admiral's quarter on stern with beautiful handcrafted brass statues and ornaments.

This model comes standard with a solid wood base and brass nameplate.
Dimensions: 35" length x 32" tall x 10.5" wide
A little history:
Fairfax was a 52-gun third rate Speaker-class frigate of the Commonwealth of England, built by Peter Pett I at Deptford and launched in 1650. She was a full rigged ship and was destroyed in an accidental fire in 1653. In the British Royal Navy, a third rate was a ship of the line which from the 1720s mounted between 64 and 80 guns, typically built with two gun decks (thus the related term two-decker).
A portion of all sales are donated to help end violence against women. We sincerely thank you!