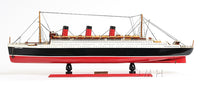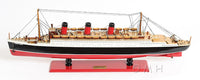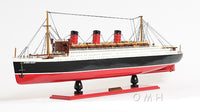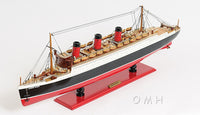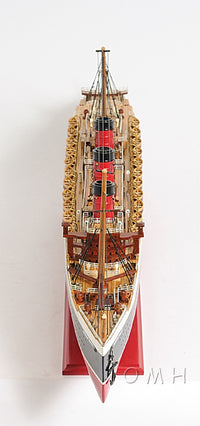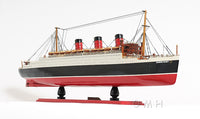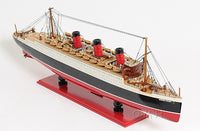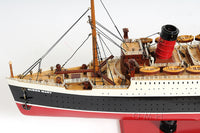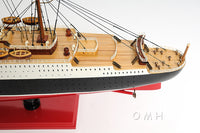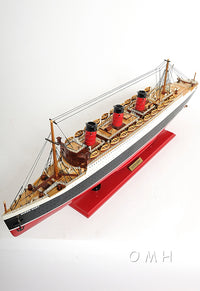 Queen Mary Model Ship
Artisans meticulously craft these intricately detailed wood model ships from start to finish using historical photographs, drawings and original plans. They are scaled to size with premium wood such as western red cedar, rosewood, and mahogany. Each model is 100% hand constructed with the plank-on-frame process, similar to the assembly of actual ships. 

Featuring hundreds of exquisite details, this model ship is painted in the same red, black, and white hues as the original Queen Mary boat and contains several metal ladders, stanchions, and rails. The handcrafted wooden winches, lifeboats, and hatches add an authentic touch. This model ship arrives to you fully assembled on the wooden base.
Dimensions: 32" length x 10.5" width x 4.5" tall
A little history: 
The Queen Mary is considered by many as the pinnacle of British passenger shipbuilding. The Cunard Line's Star Flagship, Queen Mary, was laid down for construction as the Great depression gripped Europe, rendering circumstances unfeasible for ship building. Thus, the construction was held up from 1931 to 1934. The thousand foot passenger ship was built to trump its French rival to the crown of luxury, the Normandie. One of the most appealing characteristics of the Queen Mary was her great speed. Coupled with great luxury and comfort, this factor earned amazing profits for her owners until the outbreak of the Second World War, which found her in a New York Harbor. After being idle for half a year, the Queen Mary re-entered service as a troopship, traveling unescorted from New York to Sydney. Ferrying troops between the Suez and Australia until the United States decided to take part in the fight, the Germans reportedly offered a quarter million reward for sinking this ridiculously fast passenger boat which their submarines could not keep up with. With its speed and finesse along the waters, the Queen Mary bested any warship afloat and adopted the nickname, "the Gray Ghost."
A portion of all sales are donated to help end violence against women. We sincerely thank you!