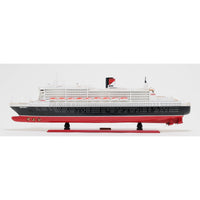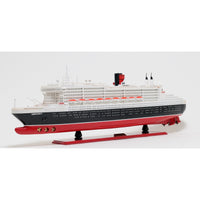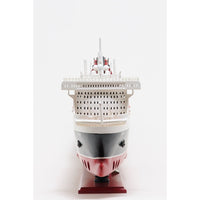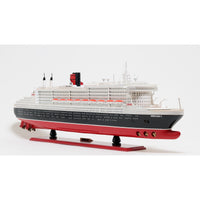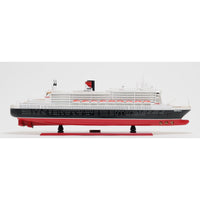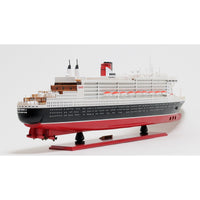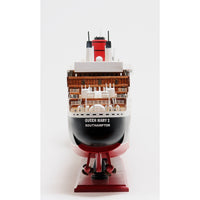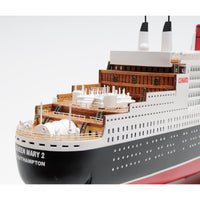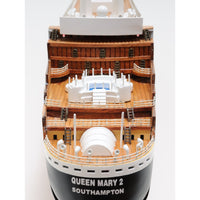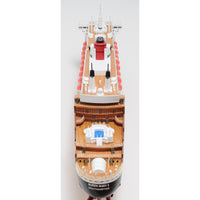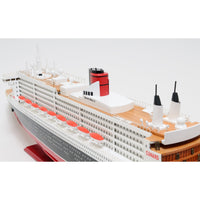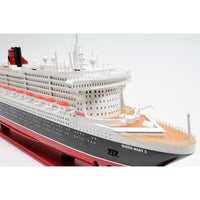 Queen Mary II Model Ship
A museum quality, fully assembled model ship of the famous and beautiful Queen Mary II. This ship was all hand built using plank on frame method and has exceptional details on the hull and deck area. You can see the smoke stack, swimming pool, life boats, windows, rails, anchor, antenna, navigation, propellers...a thousand different parts. Finished on a wooden stand with nameplate.
Dimensions: 40" length x 5.5" width x 13" tall
A little history:
The Queen Mary II, the largest and most luxurious passenger ship ever built, was to take to the seas for the first time on the 25th of September, 2003. This primary endeavor was for a series of tests ahead of her maiden voyage in January. This liner, which was the first Cunard ship to be assembled outside of Britain, left dock in the western French port of Saint-Nazaire for several trial runs between the off-shore islands of Ile dYeu and Belle-Ile. The Queen Mary II - which can accommodate some 2,600 passengers and 1,250 crew members - is 345 meters long and 41 meters wide, and stands as high as a 23-story building. The 150,000-ton vessel includes a spa, five swimming pools, 2,000 bathrooms, 3,000 telephones, 4,500 steps along with hundreds of works of art. It generated enough power to provide electricity for a city of 300,000 residents. Cunard, owned by the US cruise group Carnival, paid around 800 million dollars for the vessel. By comparison, the Titanic was 269 meters long, 28 meters wide, and a gross tonnage of 45,000 tons.
A portion of all sales are donated to help end violence against women. We sincerely thank you!