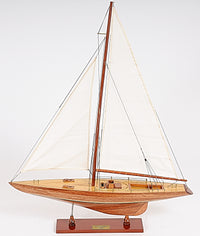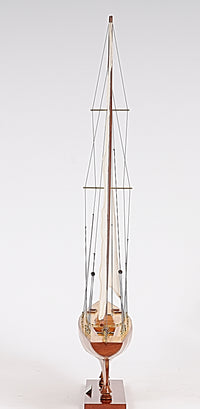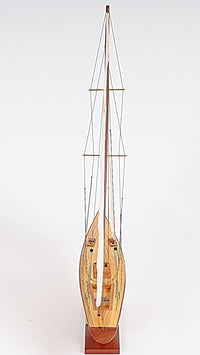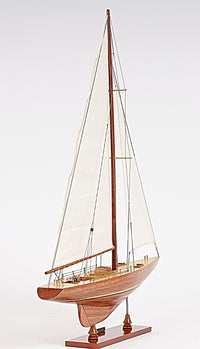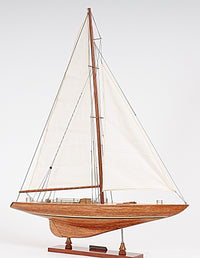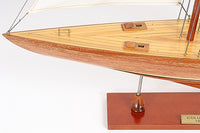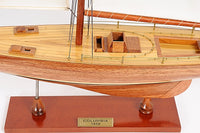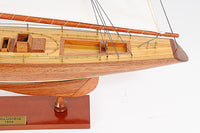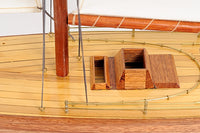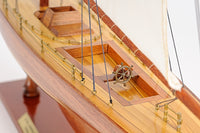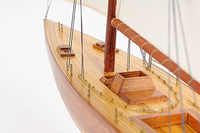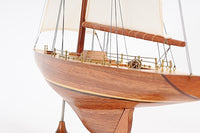 Model Sailboat Columbia Yacht
This stunning 46" tall model Columbia yacht is a welcome addition to any sailing enthusiasts home. The Columbia yacht was built in the Nevins Yacht by Olin Stephens who brought all his vast and sound experience in the design of the 1958 America's Cup Defender. This 12 meter yacht had a wooden hull and could sail at very high speed.
This model yacht is handcrafted and highly detailed using historical photographs, drawings and original plans. Built to scale with western red cedar, rosewood, and mahogany woods, this Columbia Yacht uses plank-on-frame construction method which are similar to the building of actual ships. 

The Columbia Yacht's beauty is amazingly captured by the full sails that extends all the way up to the masthead. The hull is made of teak with inlay waterline and the deck is strip built from wood planks that are carefully placed symmetrically for a beautiful finish. Wooden hatches are located forward on the deck. The metal steering wheel is located aft just above the ruder and the brass stanchions hold up all the guard rails securely around the yacht.

The model is secured tightly on a wood base with a brass name plate. The mast and sails are folded down for safe shipping.
Dimensions: 39" length x 7" wide x 46.5" tall
A little history:
Columbia was an American racing yacht built in 1899 for the Americas Cup races. She was designed and built in 1898 by Nathanael Herreshoff and the Herreshoff Manufacturing Company for owners J. Pierpont Morgan and Edwin Dennison Morgan of the New York Yacht Club. She had a nickel steel frame, a tobin bronze hull, and a steel mast (later replaced with one of Oregon pine.) She was the defender of the tenth Americas Cup race that same year against British challenger Shamrock as well as the defender of the eleventh Americas Cup race in 1901 against British challenger Shamrock II. She was the first vessel to win the trophy twice in a row.
A portion of all sales are donated to help end violence against women. We sincerely thank you!