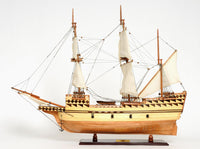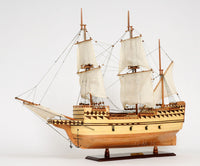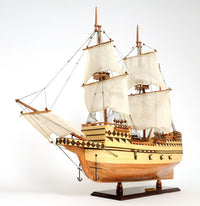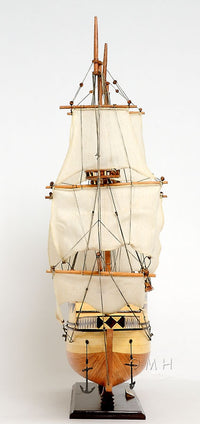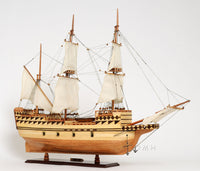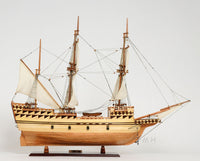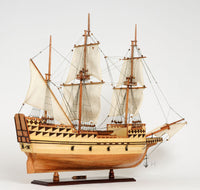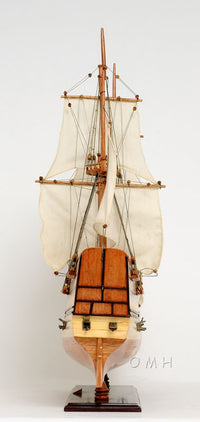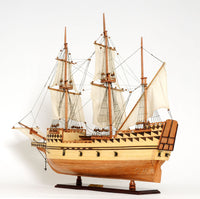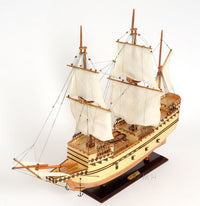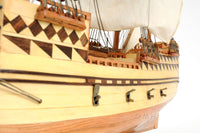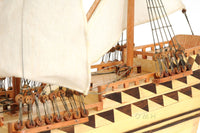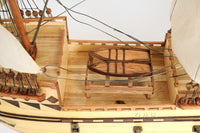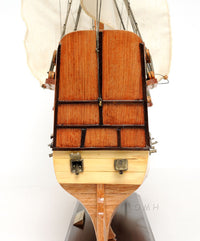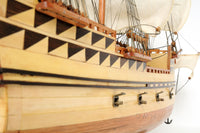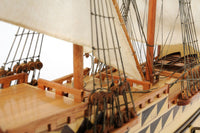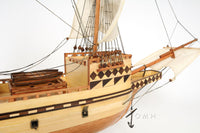 Mayflower Handcrafted Model Ship
This Mayflower model ship is an intricate replica of the original ship, hand crafted with the utmost attention to detail and precision. It is a perfect blend of accuracy and artistry, perfect for collectors and history buffs alike.
The model boat is finished with a natural wood tone , plank on frame construction, and three full masts. The rigging and lines are securely fastened for added durability, and metal anchors are secured to the hull. Hand-crafted lifeboats featuring ribs and planks are situated on the deck, alongside a variety of other detailed ornaments. Perfect for the maritime enthusiast!
Dimensions: 30" length x 5" width x 30" tall
A little history:
The Mayflower brought the first group of Pilgrims to North America in 1620. As originally conceived, the expedition included another vessel, the Speedwell, but the latter proved unseaworthy. The Mayflower, about 180 gross tons and carrying 102 passengers, finally got underway from Plymouth, England, on September 16, 1620. The ship was headed for Virginia, where the colonists had been authorized to settle. As a result of stormy weather and navigational errors, the vessel failed to make good its course, and on November 21 the Mayflower rounded the end of Cape Cod and dropped anchor off the site of present-day Provincetown, Massachusetts. No one knows exactly what the ship looked like, but it was probably about 27 m (90 ft) long, had three masts and two decks, and probably weighed about 180 tons.
A portion of all sales are donated to help end violence against women. We sincerely thank you!