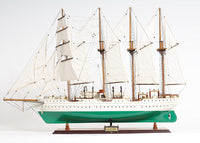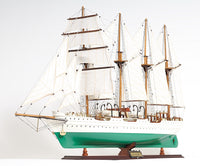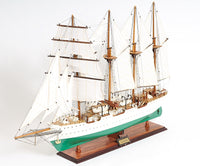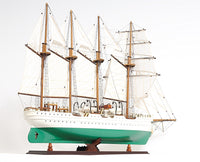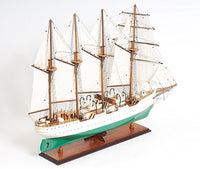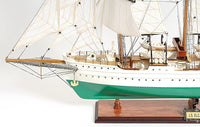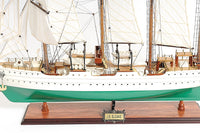 J.S. Elcano Model Ship
This is a gorgeous hand crafted model ship of the J.S. Elcano. This hand built model boat uses "plank on frame" construction methods very similar to actual ship building. The amazing details include anchors, intricate rigging, hand-stitched furled sails, authentic lifeboats, smooth white & green hull paint, multiple wooden stairs and many more features. No plastic parts! This arrives on a solid wood base, with brass nameplate and no assembly is required.
Dimensions:  37.5" length x 12" width x 24.5" tall
A little history:
The Juan Sebastián de Elcano is a training ship for the Royal Spanish Navy. She is a four-masted topsail, steel-hulled schooner. At 113 metres (370 feet) long, she is the third-largest Tall Ship in the world. She is named after Spanish explorer Juan Sebastián Elcano, captain of Ferdinand Magellan's last exploratory fleet. The ship also carries the de Elcano coat of arms, which was granted to the family by Emperor Charles I following Elcano's return in 1522 from Magellan's global expedition. The coat of arms is a terraqueous globe with the motto "Primus Circumdedisti Me" (meaning: "First to circumnavigate me"). The Juan Sebastián de Elcano was built in 1927 in Cadiz, Spain, and her hull was designed by the Spanish naval architect and engineer Juan Antonio Aldecoa y Arias in the Echevarrieta y Larrinaga shipyard in Cadiz. After the proclamation of the Second Spanish Republic in April 1931 it became part of the Spanish Republican Navy.
A portion of all sales are donated to help end violence against women. We sincerely thank you!