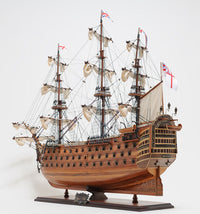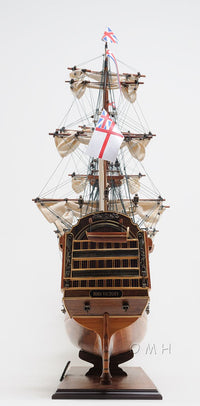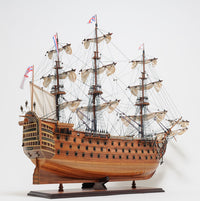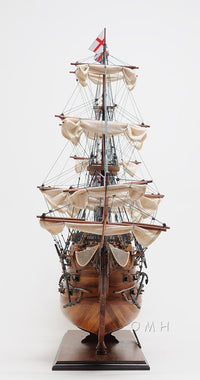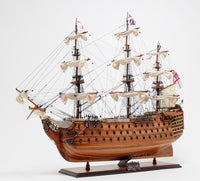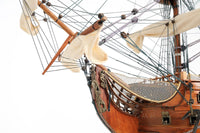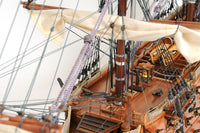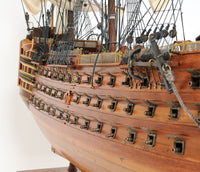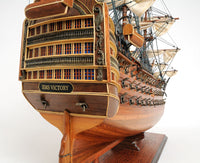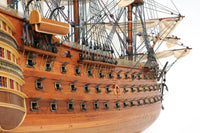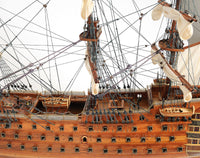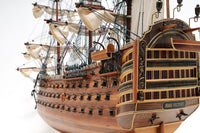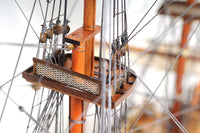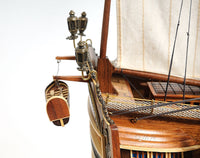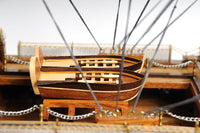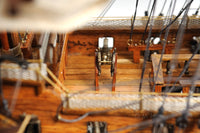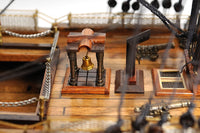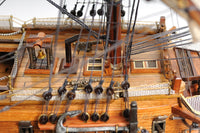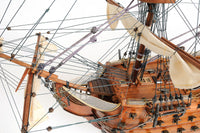 HMS Victory Exclusive Edition Model Ship
This amazing model ship is the H.M.S. Victory, Admiral Horatio Nelson's flagship at the Battle of Trafalgar in 1805. This is an "Exclusive Edition" where the model has a unique serial number etched into the hull to allow for future identification.
Handcrafted using historical photographs, drawings and original plans, this ship was built to scale with high-grade woods such as western red cedar, rosewood and mahogany using plank-on-frame construction methods, similar to the building of actual ships.
This amazing model ship includes, but is not limited to: three decks and three ferocious rows of metal cannons on each side of the ship. The front bowsprit and three large masts are connected securely using advanced rigging and lines painstakingly knotted and fastened by hand. Each yard has an attached hand-stitched rolled-up sail made of fine linen. Metal anchors and a wooden rudder are visible on the front and rear of the ship. On the deck, there are authentic hand-built lifeboats with ribs and planks, stationed metal cannons, metal steering wheels, wooden crane, captain's dining and sleeping cabin, and many other handcrafted ornaments. There is also an exquisite detailed admiral's quarter on the stern with beautiful metal lanterns, handcrafted brass statues and ornaments, and a wooden flagpole.

This model arrives to you fully assembled on a solid wood base with brass nameplate.
Dimensions: 37" length x 12" wide x 36" tall
A little history:
HMS Victory, launched at Chatham in 1765, was a 100-gun ship of the line with a length of 227.5 ft overall (69.34 m), a displacement of 3500 tons, and a crew of more than 800 men.

On Oct. 21, 1805, at the Battle of Trafalgar, twenty-seven British ships of the line led by Admiral Lord Nelson aboard HMS Victory defeated thirty-three French and Spanish ships of the line under French Admiral Villeneuve. The battle took place in the Atlantic Ocean off the southwest coast of Spain, just west of Cape Trafalgar. The Franco-Spanish fleet lost twenty-two ships and the British lost none.

In the 1920s, HMS Victory was put in a dry dock and restored to her condition under Nelson. She was unveiled to the public in all her glory by King George V on 17 July 1928 at Portsmouth. She retains her status as a fully commissioned ship in the Royal Navy and serves as the flagship of the Naval Home Command, but to her visitors, she remains a precious museum and testament to Britain's naval past.
A portion of all sales are donated to help end violence against women. We sincerely thank you!