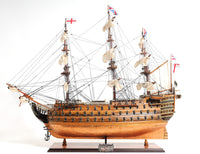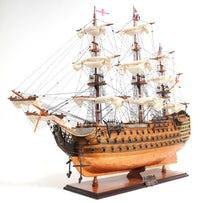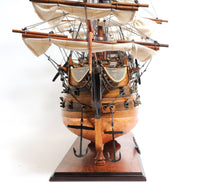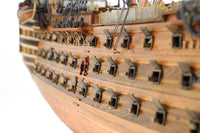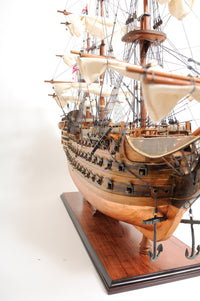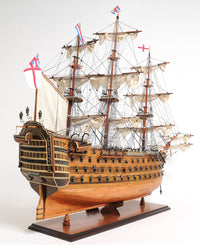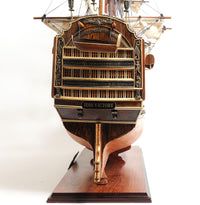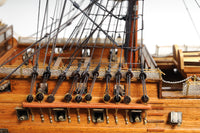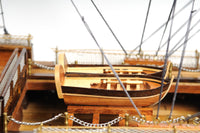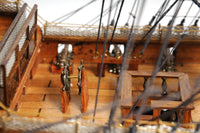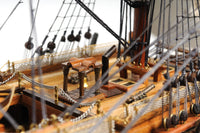 HMS Victory Copper Bottom Model Ship, Exclusive Edition
This is a stunning model of The H.M.S. Victory, Admiral Horatio Nelson's flagship at the Battle of Trafalgar in 1805. This is an "Exclusive Edition" where the model has a unique serial number etched into the hull, which allows identification of production date, material used and all other production information of a model.

Hand crafted using historical photographs, drawings and original plans meticulously replicate this model ship. They are built to scale with beautiful woods of western red cedar, rosewood, and mahogany. Using the plank-on-frame construction method which is similar to the building of actual ships makes this a unique museum quality model ship for your home or presenting as a gift!

This amazing replica of the H.M.S. Victory model has a hull bottom that is lined with pieces of dazzling copper encapsulated in a layer of fiberglass. It features plank on frame, three decks, and three ferocious rows of metal cannons on each side of the ship. The front bowsprit and three large masts are connected securely using advanced rigging and lines painstakingly knotted and fastened by hand.
Each yard has an attached hand-stitched rolled-up sails made of fine linen. Metal anchors and a wooden rudder are visible on the front and rear of the ship and on the deck, there are authentic hand-built lifeboats with ribs and planks, stationed metal cannons, metal steering wheels, wooden crane, captain's dining and sleeping cabin, and many other handcrafted ornaments. There is also an exquisite detailed admiral's quarter on the stern with beautiful metal lanterns, handcrafted brass statues and ornaments, and a wooden flag pole.

This model comes standard with a solid wood base and brass nameplate. It will arrive fully assembled.
Dimensions: 38.5" length x 12.75" width x 32.25" tall
A little history:
The H.M.S. Victory was the ultimate British fighting vessel: a full rigged 227 feet long ship with 104 guns and 850 men when at full capacity. It is able to move from 15 to 17 kilometers per hour, and weighed as heavy as 7 tons, including guns. It was launched in 1765 and was most famous as Admiral Horatio Nelson's flagship at the Battle of Trafalgar in 1805. Nelson was shot and killed during the battle. H.M.S. Victory is the oldest naval ship still in commission. It has been restored and rests in a dry dock at Portsmouth, England. The ship in Portsmouth is the sixth ship with the name Victory in the Royal Navy. There has been great interest in the fifth Victory ship, which was built 15 years earlier and whose wreckage was found recently by Odyssey Marine Exploration.
A portion of all sales are donated to help end violence against women. We sincerely thank you!