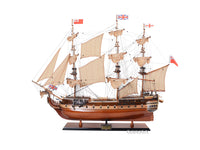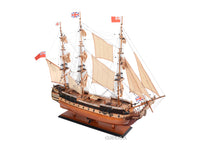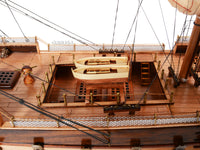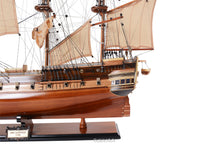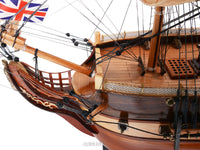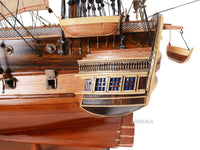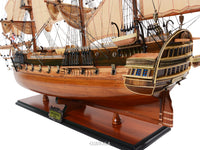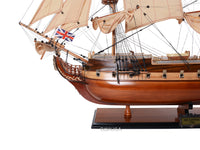 HMS Surprise Model Ship
This magnificent HMS Surprise model ship gracefully showcases a blend of exotic woods like rosewood, mahogany, and teak, skillfully joined together in a plank-on-frame fashion for a seamless hull. Crafted by hand, this model boat features realistic features such as a wooden bowsprit, foremast, mainmast, and mizzen mast connected to full-sized fabric sails with exact stitching. The main deck displays two wooden boats set in a rectangular area, two wooden bunkers, a wooden/metal steering wheel, and a wooden bunker with a telescope. Metal parts, including cannons, anchors, lanterns, and statues, also adorn the vessel. This model ship arrives fully assembled and ready for display.
Dimensions: 37" length x 12" width x 31" tall
A little history:
H.M.S. Surprise has become famous as the 18th-century tall ship portrayed in the movie "Master and Commander: The Far Side of the World," starring Russell Crowe. The ship used in the Academy Award-winning film is actually a modern tall ship – a magnificent replica of a 24-gun Royal Navy frigate. The Surprise was painstakingly re-created to look like a vessel from the Revolutionary War Era. The replica ship was christened H.M.S. Rose when launched in 1970 in Nova Scotia, and for more than 30 years it served as a sail-training vessel, primarily along the East Coast. In the movie, a fictional British frigate named the Surprise and a much larger French warship, the Acheron, stalk each other off of the coast of South America. The movie, directed by Peter Weir, was based on a book by author Patrick OBrian. After the movie, the ship's name was officially changed from the Rose to the Surprise. Today, H.M.S. Surprise resides dockside at the San Diego Maritime Museum and is still seaworthy.
A portion of all sales are donated to help end violence against women. We sincerely thank you!