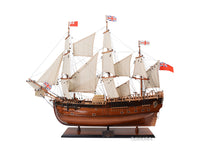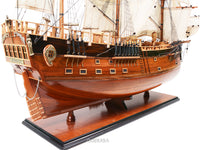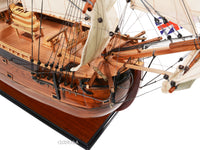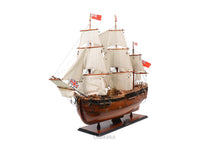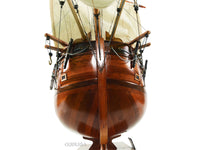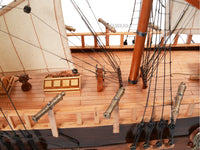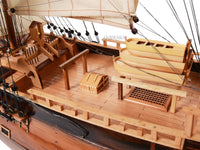 HMS Endeavour Model Ship
The HMS Endeavour model ship is crafted from exotic woods and is fully assembled for a beautiful accent in any room. An authentic replica of the original ship, this model is sure to impress.
Meticulously handcrafted, this model ship is created using a variety of woods such as rosewood, mahogany and teak, with no plastic parts for the hull. Constructed with a plank-on-frame method, the strips of wood are expertly joined to render a seamless exterior. Numerous details and a clear varnish result in a highly realistic replica. Constructed to scale from original plans, drawings and photos, this model comes fully assembled and ready for display, securely packed in a wooden crate for shipping.
Dimensions: 38" length x 13" width x 32" tall
A little history:
In 1768 Lieutenant James Cook, Royal Navy, set sail on HMS Endeavour on a voyage of exploration and scientific investigation and through his journeys. Cook was considered to be one of the greatest explorers. In 1770 Cook reached New Zealand where he circumnavigated and completely charted the north and south islands before continuing west. In April, he sighted the east coast of Australia and sailed north along the coast before anchoring in what he named Botany Bay. He then continued north to Cape York and on to Jakarta and Indonesia. During the four months voyage along the coast Cook charted the coastline from Victoria to Queensland and proclaimed the eastern part of the continent for Great Britain. Cook was the first person to accurately chart a substantial part of the coastline of Australia and to fix the continent in relation to known waters.
A portion of all sales are donated to help end violence against women. We sincerely thank you!