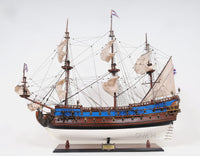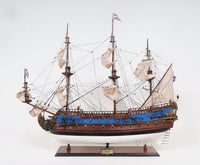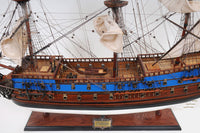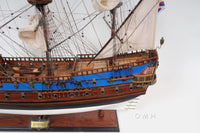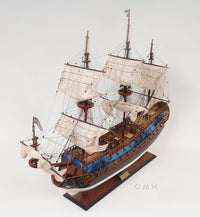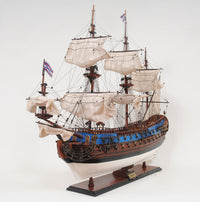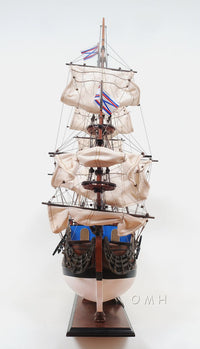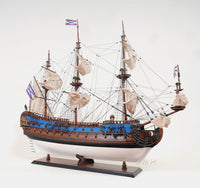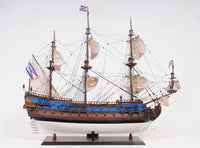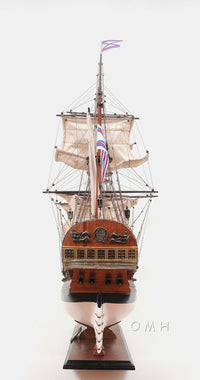 Goto Predestination Painted Model Ship
This hand crafted Goto Predestination replica (Gods Predestination, literally The Providence of God) was the Russian 18th century navy flagship, 58-gun and three-masted battleship.

This model ship boasts 58 metal cannons on three decks and features plank-on-frame construction. Its hull is adorned with black, blue, and creamy off-white paint, while the deck features stationed cannons, hand-built lifeboats with ribs and planks, a wooden cabin, bell tower, windlass, and various intricate ornaments. Further, the stern boasts an exquisite admiral's quarters, equipped with metal lanterns, statues of dolphins and riders, and other exquisite decorations. It will arrive fully assembled on a solid wood display baes.
Dimensions: 37.5" length x 11.5" width x 33" tall
A little history: 
Because Peter the First wanted to open an international and naval trade expansion to create Russias political ascendant in international arena, Goto Predestination ship was made in 1700 to be equipped for Russian Marine. It was used in warfare of the coalition of Russia, Denmark, Germany and Poland against Sweden that played out from 1700 to 1721. In 1714 Goto Predestination joined in Baltic campaign and won the first battle for Russian Naval in Hango. In 1719 she joined in warfare to attack Sweden. She participated in many battles in 17th-18th century and she was improved for several times. She rested in the beginning of 19th century when there was a worldwide revolution of structure and boat weapons.
A portion of all sales are donated to help end violence against women. We sincerely thank you!