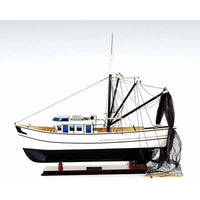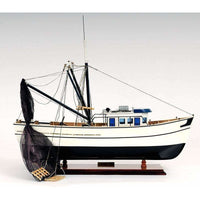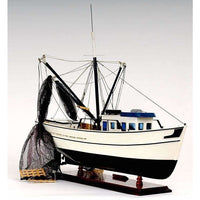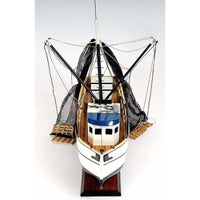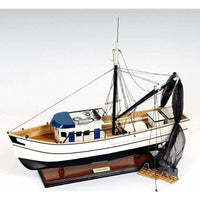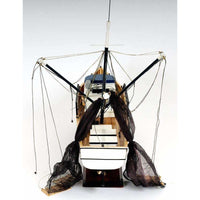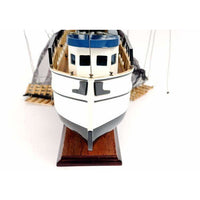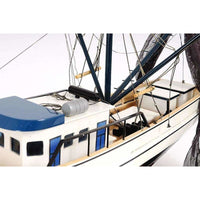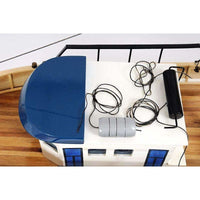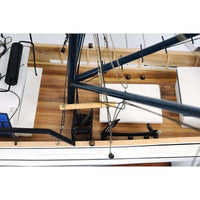 Forrest Gump Model Shrimp Boat
Who can forget the infamous shrimp boat featured in the movie Forrest Gump? I can still see Tom Hanks diving into the river to rescue his 'Jenny' after it came loose from its moorings!
This highly detailed wood model shrimp boat is the ubiquitous style shrimping boat that can be found in the waters of the Gulf of Mexico. Using historical photographs, drawings and original plans, these are built with teak and mahogany wood. They are 100% hand built, using the plank-on-frame construction method - the same method of building actual ships. 
Painted in black and white, there are fishing nets on both side of the hull with wooden crates. The cabin is painted white with tinted blue windows, with an anchor placed on top of the deck along with other boat gears. The nets together with the mast and rigging really make this boat special. It does not have Jenny written across the side - that was specific to the movie.

This model is secured on a solid wooden base with a brass nameplate. 
Dimensions: 25" length x 13.5" width x 22" tall
A little history:
Seen across the Gulf of Mexico and featured in the movie Forrest Gump, shrimp boats are known by the phrase "By night they work the nets, and by day they rest and clean". They anchor up just after dawn and begin cleaning their decks and holds of by-catch and trash fish. They are the shrimp boats that spend the night dragging their nets for pink gold. By night they work the nets, and by day they rest and clean.
A portion of all sales are donated to help end violence against women. We sincerely thank you!