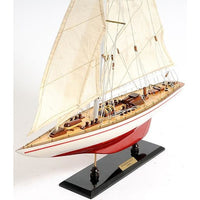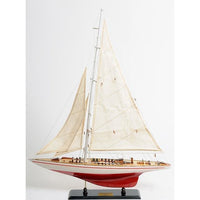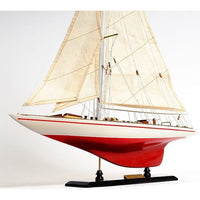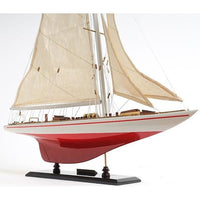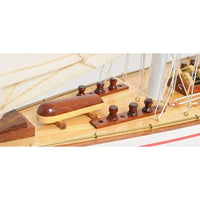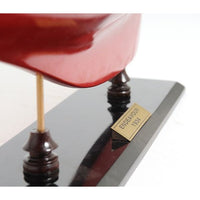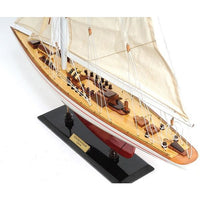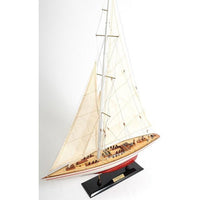 Endeavour Yacht Model Boat
The Endeavour was the most impressive British sailboat to ever race in the America's Cup World Series. Built for speed as well as beauty, the Endeavour was created in 1934 by Thomas Sopwith, the undisputed leader of the British aircraft industry. This is a magnificent boat model to be displayed in a home or office decor.

Highly detailed using historical photographs, drawings and original plans, this model boat is hand built with western red cedar, rosewood, and mahogany. 

The hull is sanded over and over to acquire a very smooth finish. It is then painted in red and white with a red accent line. It features beautiful hand stitched sails that extends all the way to the mast head. The wooden pulleys keep the complicated rigging tighten. The deck is made out of wood planks that are carefully pieced symmetrically for a beautiful finish. It contains numerous details such as wooden cabin, companionway, realistic life boat and hatches. Many wooden winches are placed around the deck to wind up or let out riggings when needed.

The model is secured tightly on a solid wood base with a brass nameplate. The mast and sails are folded down for easy packaging and shipping. 
Dimensions: 24" length x 4.5" width x 31.5" high
A little history:
Endeavour was hailed as the most beautiful J-Class yacht ever built. She was the best and most impressive sailboat that Britain ever built to race in America's Cup series. Endeavour had speed as well as beauty. Built in 1933 by T.O.M. Sopwith, the undisputed leader of the British aircraft industry, Endeavour possessed many new and innovative devices, including below-deck winches, new sail designs, and an improved spinnaker. Even with an amateur crew, she came closer to winning the Cup than any other challenger up to that time. Endeavour was a faster yacht than her contender Rainbow. She beat Rainbow the first two races. However, the American team was a much finer crew and defeated Endeavour all next three races by out-thinking her captain. When Endeavour returned to England she continued to dominate the British racing scene until 1938 when she was laid up for the duration of World War II. Saved by Elizabeth Meyer of New Port, RI, today she is one of the most breathtaking sights on the water. To take helm of such a yacht is to experience pure power, grace, and speed.
A portion of all sales are donated to help end violence against women. We sincerely thank you!