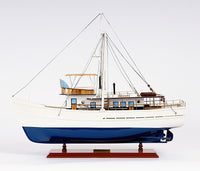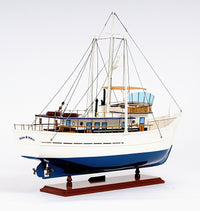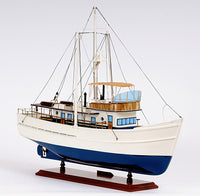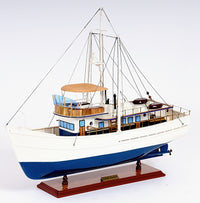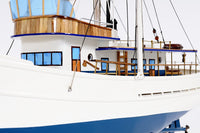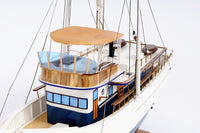 Dickie Walker Model Boat
This Dickie Walker model boat is a stellar gift for the sailor in your family. Hand crafted from beautiful woods of rosewood, mahogany and teak. The hull is constructed using a plank on frame method, (similar to the building of full size ships) where each strip of wood is carefully joined together to form a smooth hull.
The traditional maritime colors of white and blue gleam along with amazing details. On the ship, you will find a variety of beautiful handcrafted parts such as wooden lanterns with metal frames, wooden canoes, metal propeller, wooden benches, wooden main mast, and much more.
This model has a gorgeous main deck finished with beautiful crafted wooden parts such as windows, axes, and ladders. On top of the deck, you can spot a comforting navigation area with fine-looking wooden decorations. An attach wooden stand comes standard with this model boat and is ready for display.
Dimensions: 25.3" length x 6" width x 21.5" tall
A portion of all sales are donated to help end violence against women. We sincerely thank you!