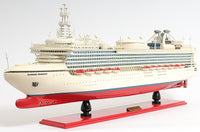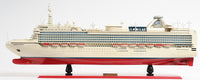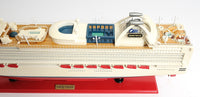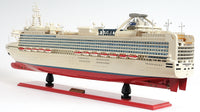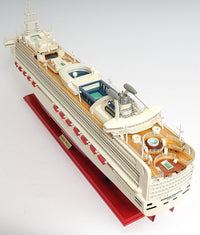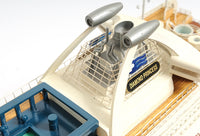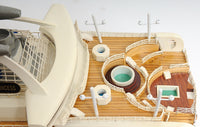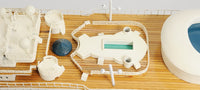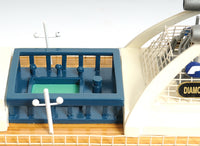 Diamond Princess Model Cruise Ship
The new Diamond Princess is the largest and most innovative vessel in the Princess fleet. The unique Club Fusion combines a nightclub, bar, casino, and cabaret for the ultimate in entertainment. Ultimately luxurious, this model ship will make you want to book a holiday on the real ship!

This model cruise boat is hand built using western red cedar, rosewood, and mahogany woods. The model is painted in red and white with blue accents with hundreds of windows representing passenger rooms. The wooden life boats are meticulously detailed and the top floor has plank decking. Cruise ships always have several swimming pools and this model ship is no exception. This model boat arrives fully assembled on a wooden stand with a brass nameplate.
Dimensions: 32" length x 6.5" width x 12.5" tall
A little history:
The Diamond Princess is one of the largest Grand-class type of cruise ships. Built by the Mitsubishi Heavy Industries group in February 2004, it usually cruises to Alaska during the summer and to Australia and Asia at other times. Costing around $500 million dollars, the cruise ship has two 8 cylinder Wartsila 46 engines and two 9 cylinder Wartsila 46 engine. The 8- and 9- cylinder engines can approximately produce 8,500 kW and 9,500 kW of power engine respectively. Its two 20 megawatts motors made by Alstom Motors run up to 154 revolutions per minute. The ship is 290.2 meters in length and has a beam of 37.50 meters, which exceeds the usually 36 meters that Grand class cruise ships usually have.
A portion of all sales are donated to help end violence against women. We sincerely thank you!