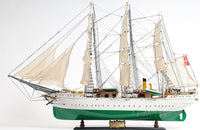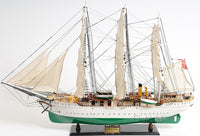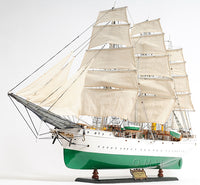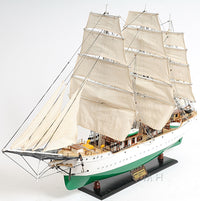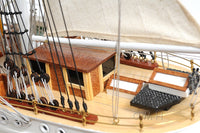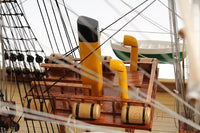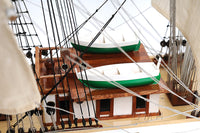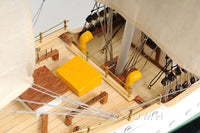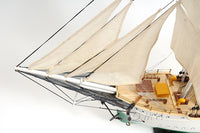 DANMARK Model Ship
This Danmark Model Ship is a stunning handmade reproduction of the original denmark sailing vessel. Crafted to the exact proportions of the original, this model ship is sure to thrill collectors with its precise and intricate details.
Crafted using historical photographs, drawings, and original plans, this detailed model boat is made with high-grade woods such as western red cedar, rosewood, and mahogany with the plank-on-frame construction method, mirroring the construction of actual ships. 

The Danmark model ship boasts two-tone hull paint, plank-on-frame construction, three decks, portholes, a bowsprit, three masts with advanced rigging and linen sails, anchors, a rudder, painted lifeboats, a capstan, a cabin, light beacons, a smoke stack, ladders, and many more handcrafted ornaments.
Dimensions: 34.5" length x 12" width x 25" tall
A little history:
The DANMARK is a steel-hulled, three-masted and full-rigged ship. It was built as a training ship in 1933 at Nakskov Shipyard in Denmark. Since then it has provided basic training for young people seeking careers at sea. The ship is the property of the Kingdom of Denmark and has its home base there. It is capable of sailing all over the world, however in the recent years it has only been sailing in European waters. On special occasions it crosses the Atlantic Ocean to visit the USA, where the ship stayed during WWII and provided training for US cadets. The ship is capable of carrying 26 sails in a total of 1632 square-meters. A main engine of 357 kW ensures that the ship will be able to make its way also when the wind is erratic.
A portion of all sales are donated to help end violence against women. We sincerely thank you!