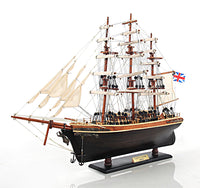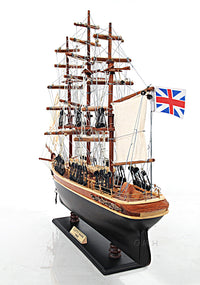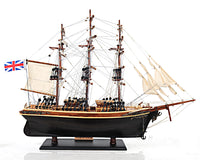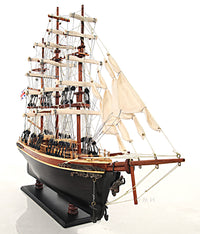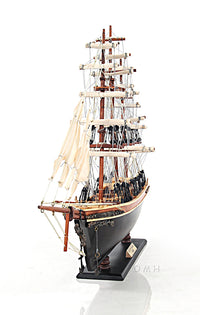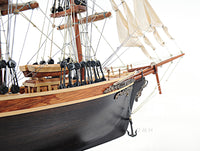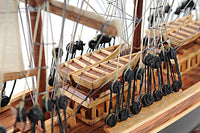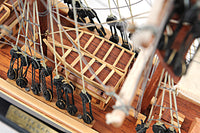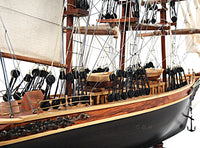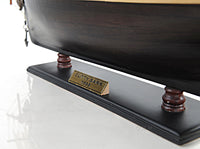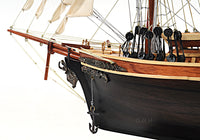 Cutty Sark Model Ship
This stunning Cutty Sark model ship has amazing wooden details using no plastic parts. All hand constructed, details include but not limited to 3 wooden booms, 1 wooden bunker, 4 front and 1 main masts with fabric sails and detailed stitching, all rigging are matching colors, 4 wooden boats, 2 wooden storage rooms, 2 metal fences on the front and back of the ship, 2 metal ornaments embedded with Cutty Sark locating in the back and front left of the ship, 2 metal anchors and 1 metal statue in front of the ship.
This model boat was built according to scale through original plans, pictures and drawings. Attached to this model is a wooden stand with a metal name plate embedded "Cutty Sark 1869". This model arrives to you fully-assembled and ready to be displayed.
Dimensions: 22" length x 5.5" wide x 17" tall
A little history:
The Cutty Sark was built in Dumbarton, Scottland, in 1869 and was engaged in the China tea trade until 1873. She then embarked upon twenty years of passages between England and Australia. After 1895 she served under the Portuguese flag for twenty-five years. She now belongs to the Thames Nautical Training College and she stands dry-docked at Greenwich in London
A portion of all sales are donated to help end violence against women. We sincerely thank you!