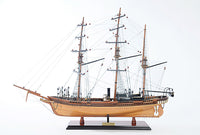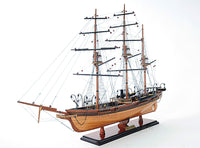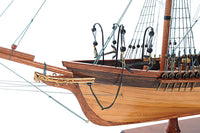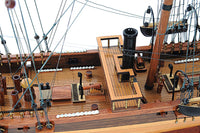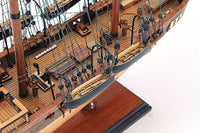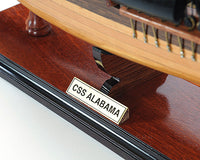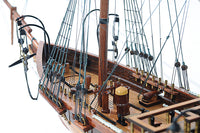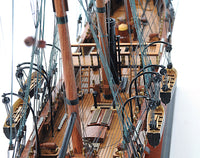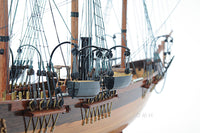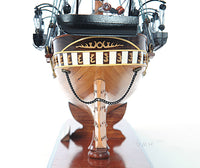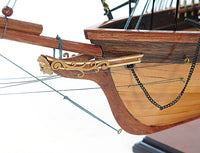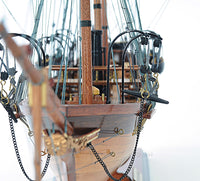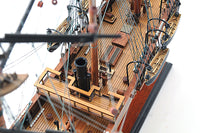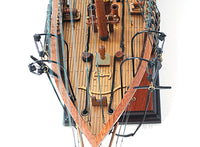 CSS Alabama Model Ship without Sail
This handcrafted and fully assembled wooden model of the Confederate States Ship Alabama is a must-have for Civil War aficionados. It has been expertly handcrafted from scratch using a combination of historical photos, drawings, and original plans, and is constructed using plank-on-frame building methods and premium wood such as western red cedar, rosewood, and mahogany. 

This detailed C.S.S. Alabama model ship is hand-crafted to perfection from natural wood and features a plank-on-frame construction with three decks, one row of open portholes along each side of the hull, and a wooden rudder and metal anchors visible on the front and rear. Anchored firmly, its front bowsprit, three large masts and advanced rigging are hand-knotted to the deck. Additional authentic features, such as metal cannons and cranes, hand-built lifeboats with ribs and planks, a wooden smoke stack, and wooden staircases with handles, contribute to its stunning realism.

Dimensions: 31.5" length x 9.5" width x 23.5" tall
A little history:
In 1862, John Laird Sons and Company of Liverpool, England built the screw sloop-of-war CSS Alabama for the Confederate States of America. Launched as Enrica, the vessel was fitted out as a cruiser and commissioned as CSS Alabama on 24 August 1862. Under Captain Raphael Semmes, Alabama spent the next two months capturing and burning ships in the North Atlantic and intercepting American grain ships bound for Europe. Continuing its path of destruction through the West Indies, Alabama sank USS Hatteras near Galveston, Texas and captured its crew. After visiting Cape Town, South Africa Alabama sailed for the East Indies where it spent the next six months cruising for enemy shipping. While there, the formidable commerce raider destroyed seven more ships before redoubling the Cape of Good Hope and returning to Europe.
A portion of all sales are donated to help end violence against women. We sincerely thank you!