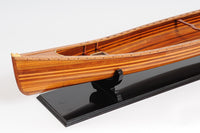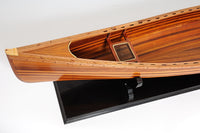 Cedar Wood Canoe Model
Embodying the spirit and history of canoe craftsmanship, this gorgeous model canoe boat is all custom made utilizing age-old techniques and traditions. The richness of Canadian cedar wood strips are hand joined and finished in fiberglass epoxy resin adding an extra layer of durability and strength.
This model canoe even features two rattan seats to give it incredible realism.
Dimensions: 44" length x 7" width x 5.5" tall
A portion of all sales are donated to help end violence against women. We sincerely thank you!