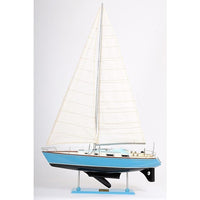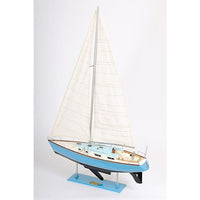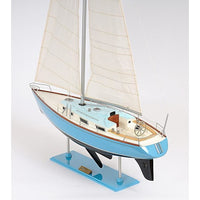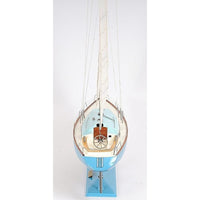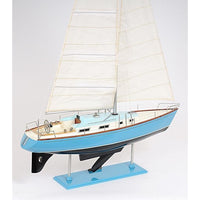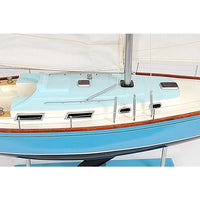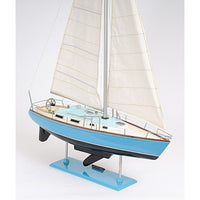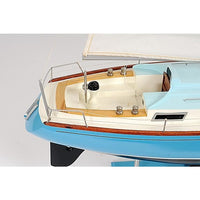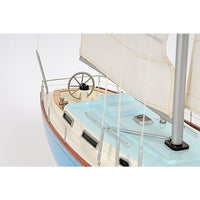 Bristol Yacht Model Boat
Bristol Yachts was founded by Clint Pearson, one of the first production fiberglass boat builders. One of his designs is the Bristol 35.5. 
This beautiful model yacht boat is entirely hand made and highly detailed using historical photographs, drawings and original plans. They are built with western red cedar, rosewood, and mahogany woods using real ship building plank-on-frame construction methods. 

The Bristol Yacht's hull comes in a beautiful tone of light blue light blue & black with white stripes. The mast and boom are painted in silver. It also has a large cabin with a wooden door and black windows. There are wooden hatches on top of the cabin as well. You can also see a pulpit and guard rails around the yacht hold up by metal stanchions. There is a metal ladder hanging on the transom. The meticulously stitched sails and intricate rigging complete the definition of a true sailing boat.

The model is secured tightly on a light blue solid wooden base with a brass nameplate. The tall mast and sails are folded down for safe packaging and shipping. Basic assembly required.
Dimensions: 29.3" x 8.5" x 45.8" tall
A little history:
Between 1966 and 1977 Bristol Boat Company built a number of traditionally styled boats that were perhaps best exemplified by the classic Bristol 32 and Bristol 40 models. By the middle 1970s there was considerable market pressure to provide modern styling and greater accommodation. In late 1977, Bristol responded with the introduction of the Bristol 29.9 and Bristol 35.5 models. Over the years, through company ups and downs, Bristol offered models ranging from the Bristol 27.7 to the Bristol 65.5, and all generally following the same design concept. The Bristol 35.5 has stood the test of time and is still available as a new boat today, nearly 20 years after it was introduced.
A portion of all sales are donated to help end violence against women. We sincerely thank you!