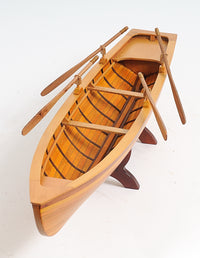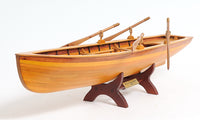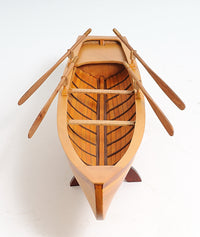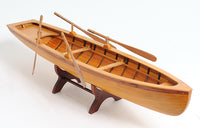 Boston Tender Model Rowing Boat
The Boston Tender is a classic rowing boat believed to have originated along the New York waterfront in the early 1800s. This wonderful model replica has wonderful details, perfect for your beachfront style. 
This 24.5-inch model boat is hand built from the highest quality of woods using "plank on frame" construction, just like real boats. Gorgeous details of interior ribs, four oars, oar holders, seats, brass nameplate and stand. The boat is wood, through and through!
Dimensions: 24" length x 6" width x 6" tall
A little history:
The Whitehall originated in about 1820, around the New York waterfront and takes its name from the nearby Whitehall Street. Commonly built in Boston boat shops of that era, Whitehalls were originally used by runners who would row out to incoming deepwater vessels to accost the crews, pitching the local brothels, ship chandlers, and the like. Because of their grace and beauty, there has been a renewed interest in the Whitehall boats within the last 50 years.
A portion of all sales are donated to help end violence against women. We sincerely thank you!