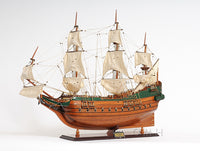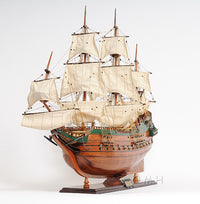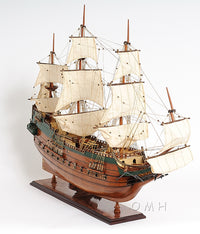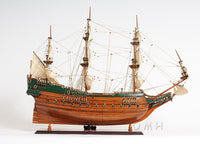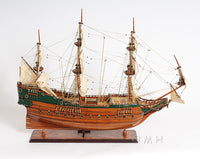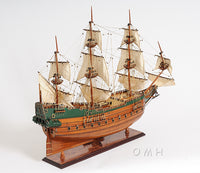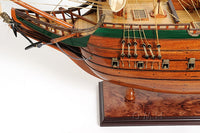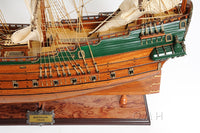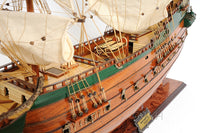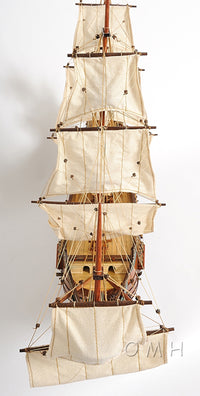 Batavia Model Ship
This amazing Batavia model ship is handcrafted with incredible detailing. This model ship is built using plank on frame methods which is similar to building of real full size ships! Featuring three decks, and one row of ferocious cannons on each side of the ship, the front bowsprit and three large masts are connected securely using advanced rigging and lines knotted and fastened by hand. Each yard has an attached hand-stitched unfurled sail made of fine linen. Metal anchors and a wooden rudder are visible on the front and rear of the ship. On the deck, there are metal stationed cannons, authentic hand-built lifeboats with ribs and planks, wooden windlass, and many other handcrafted ornaments.
Dimensions: 37" length x 10.5" wide x 29.25" tall
This model ship arrives fully assembled and includes the plate and stand.
A little history:
The Batavia was a ship of the Dutch East India Company (VOC). It was built in Amsterdam in 1628, and armed with 24 cast-iron cannons and a number of bronze guns. Batavia was shipwrecked on her maiden voyage, and was made famous by the subsequent mutiny and massacre that took place among the survivors. A twentieth-century replica of the ship is also called the Batavia and can be visited in Lelystad, Netherlands.
A portion of all sales are donated to help end violence against women. We sincerely thank you!