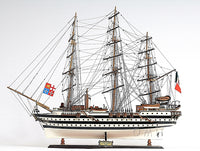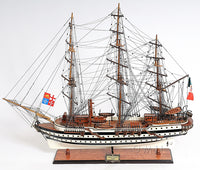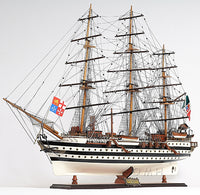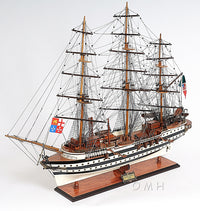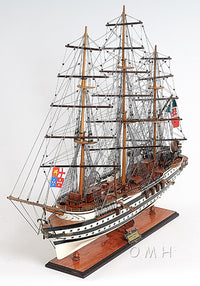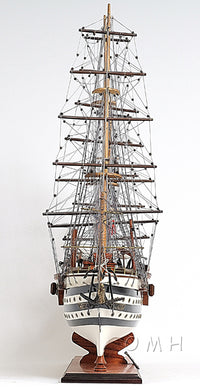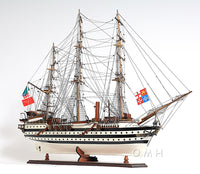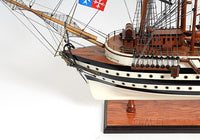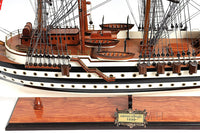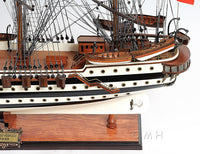 Amerigo Vespucci Model Ship
The Amerigo Vespucci was a ship built in 1930 at the Naval Shipyard of Castellammare di Stabia, Italy. This is a fully assembled, hand crafted, museum-quality model ship. Using wood such as western red cedar, rosewood, and mahogany, this is hand built using plank-on-frame construction methods similar to the building of actual ships. 
This Amerigo Vespucci model has a distinctive two tone black and white paint on the hull, featuring three decks, and two and a quarter rows of portholes on each side of the ship. The front bowsprit and three large masts are connected securely using advanced rigging and lines painstakingly knotted and fastened by hand. The glorious Italian flag is attached to the mizzen yard. Metal anchors and a wooden rudder are visible on the front and rear of the ship. On the deck, there are metal cranes holding authentic hand-built lifeboats with ribs and planks, wooden cabin, wooden stairways, wooden ladders, and many other handcrafted ornaments.

This model comes standard with a solid wood base and brass nameplate.
Dimensions: 36" length x 32" tall x 9" width
A little history:
The Amerigo Vespucci is a tall ship of the Marina Militare, named after the explorer Amerigo Vespucci. Its home port is Livorno, Italy. As of 2008, she is still in use as a school ship. In 1925, the Regia Marina ordered two school ships to be built following a design by Lieutenant Colonel Francesco Rotundi of the Italian Navy Engineering Corps, inspired by the style of large late 18th century 74-cannon ships of the line.
The Amerigo Vespucci was built in 1930 at the Royal Naval Shipyard of Castellammare di Stabia (Naples). She was launched on February 22, 1931, and was put into service in July of that year. The vessel is a full rigged three-masted steel hull 82.4 m (270.34 ft) long, with an overall length of 101 m (331 ft) including the bowsprit and a maximum width of 15.5 m (51 ft). She has a draft of about 7 meters (23 ft) and a displacement at full load of 4146 tons. Under auxiliary diesel-electric propulsion power, the Amerigo Vespucci reaches a top speed of 10 knots.
A portion of all sales are donated to help end violence against women. We sincerely thank you!