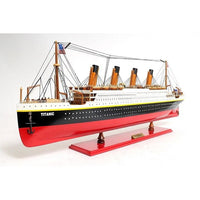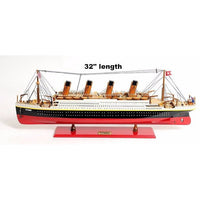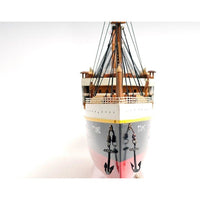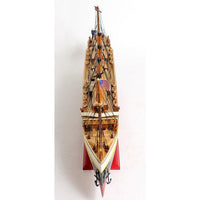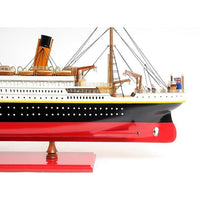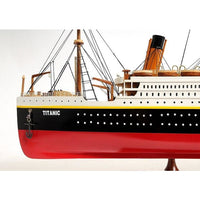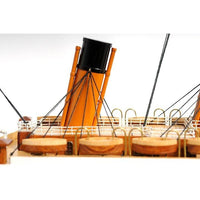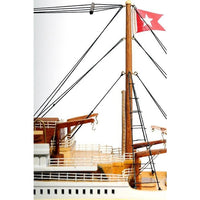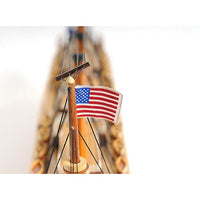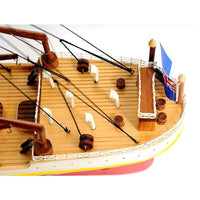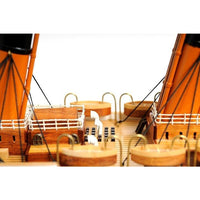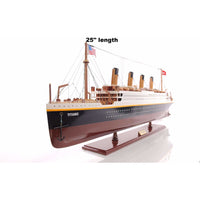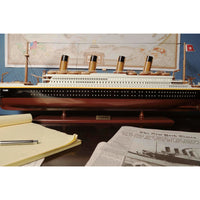 Titanic Model Ship, 25", 32" or 56" Length
The famous RMS Titanic ship. This stunning model ship is 100% hand built using "plank on frame" construction methods. 

This Titanic model ship is hand painted in the original colors of red, white and black with stunning attention to details.

It has magnificent details which include plank decking, metal rails, multiple life boats, davits, metal stairs, painted smoked stacks, anchors, and advanced rigging. Finished with US, UK and white star flags. The word Titanic and home port Liverpool are painted on the hull and this rests on a solid wood base with metal nameplate.
Three sizes available:
Extra large dimensions: 56" length x 6" width x 19.5" tall NOTE: this size is bright red, yellow, white and black in color.
Large dimensions: 32" length x 4" width x 11" tall NOTE: this size is burgundy brown, white, yellow and black in color.
Small dimensions: 25" length x 3.5" width x 10" tall NOTE: this size is burgundy brown, white, yellow and black in color.
A little bit of history: 
The Titanic was named by J.BRUCE ISMAY, and built in March 1909. In May 1911, she was launched, which was a heavily publicized spectacle. Titanic was designed to be a marvel of modern safety technology and her accommodations were the most modern and luxurious on any ocean. She was 883 feet long (1/6 of a mile), 92 feet wide and weighed 46,328 tons. She was 104 feet tall from keel to bridge, almost 35 feet of which were below the waterline. She was capable of carrying over 3500 people (passenger, crew). Unfortunately, at 11:40 P.M. on the 14th April 1912, the greatest maritime disaster in history began. During that night of heroism, terror and tragedy, 705 lives were saved, 1502 lives were lost, and many legends were born.
A portion of all sales are donated to help end violence against women. We sincerely thank you!