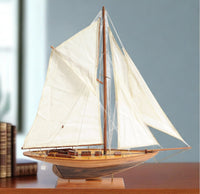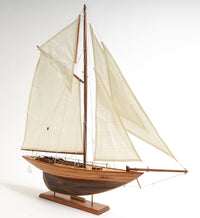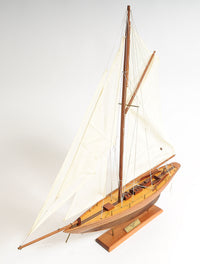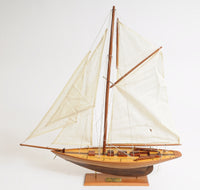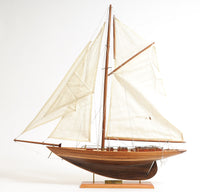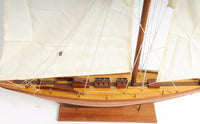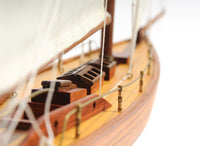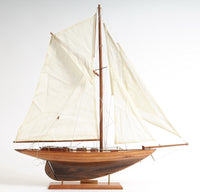 Pen Duick Hand Crafted Model Sailing Boat
Originally built in 1898, the Pen Duick was one of the most beautiful sailing boats with it's simple and sophisticated design. 
Hand crafted using historical photographs and drawing, this model sailing boat was built using western red cedar, mahogany and rosewood using plank on frame construction method. The deck is made from many strips of wood and there are various details on the deck such as hatches, winches and cabin. There is also a metal filter on the deck near the companionway. The stitched sail and intricate rigging complete the definition of a true sailing boat. 
The model is shipped with the mast folded down and some assembly is required. 
Dimensions: 24" length x 4" wide x 25.5" tall 
A little history:
The 36-rater Pen Duick (launched as Yum) was built in 1898 by Cummins & Sons at the Gridiron & Marine Motor Works at Carrigaloe in Cork Harbour, Ireland, to a Linear Rating Rule designed by Scotsman William Fife III. The gaff-rigged cutter was quickly noted as a successful racer in Irish, British and French waters. Eric Tabarlys father acquired her when Eric was seven years old and the boy learnt to sail on her. After World War II, she was put on sale, but finding no takers, Éric convinced his father in giving her to him. Years later, he was told her wooden hull was rotten, and being unable to hire a yard to salvage her, proceeded to save her himself, making a mold to build her a new polyester hull: It was the largest of its kind at the time. He refitted her entirely, with a loftier rig for the southern climes. In the night of June 12 to 13 1998, Éric Tabarly fell overboard and was lost in the Irish Sea, while sailing the hundred-year-old cutter en route to the Fife Regatta in Largs, Scotland.
A portion of all sales are donated to help end violence against women. We sincerely thank you!