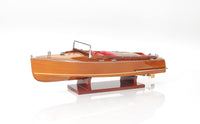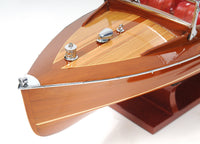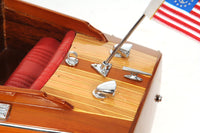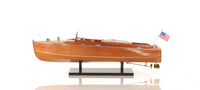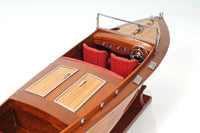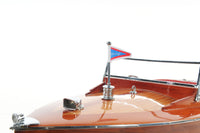 Chris Craft Runabout Model Boat
As luxurious as the real full size boat, this is a beautiful 100% handcrafted Chris Craft model boat. With extraordinary and beautiful details such hand stitched brown leather interior, the woods used are mahogany, western red cedar and rosewood. The gauges have detailed lettering and all the ornaments on the ship are made out of metal. This gorgeous model boat is finished with two flags that represent the Chris Craft heritage. 
The model boat rests on a wood stand and will arrive fully assembled. 
Dimensions: 24.5" length x 7" width x 7.5" tall
A little history:
Founded by Christopher Columbus Smith around the 1920s, Chris Craft Co. still stands as a leader in producing high-powered, luxurious leisure boats. The quality of his boats was tested through competitive speedboat racing, and the Christ Craft superiority rang true as the boats consistently proved victorious. During the era of prohibition, speedboat racing was embraced by gamblers, industrialists, and mobsters. These men readily financed the high-powered designs of craftsman such as Christopher Columbus Smith, John L. Hacker, and George Crouch. As Smith's boats started to receive awards such as the coveted Gold Cup of the American Power Boat Association, the Chris Craft name started to become a star among nautical enthusiasts. He continued to thrive in the speedboat competitions and his string of victories further accelerated the explosion of his company's success.
A portion of all sales are donated to help end violence against women. We sincerely thank you!