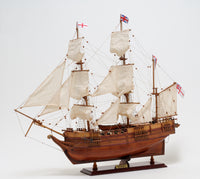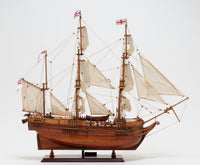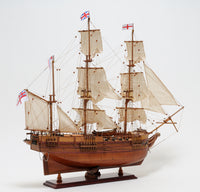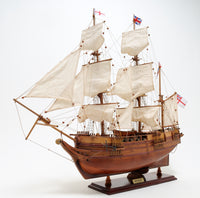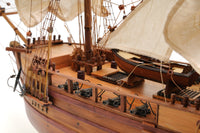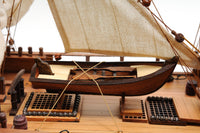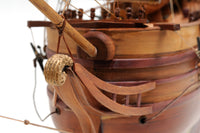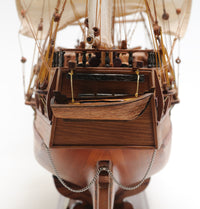 Charles Darwin's Beagle Model Ship
This is the famous HMS Beagle of which naturalist Charles Darwin had the seeds of his book The Origin of Species. This model ship is 100% hand built from scratch using "plank on frame" construction method, similar to the building of actual ships. Crafted with exotic woods such as mahogany, western red cedar and purple heart trim, this replica has magnificent details including metal anchors and cannons, authentic crows nest, advanced intricate rigging, full blow sails, wood inlay hull, inlay deck, an ornate stern and many more. This gorgeous model ship sits on a solid wood base, with metal nameplate and arrives to your home fully assembled.
Dimensions: 32" length x 9" wide x 29" tall
A little history:
HMS Beagle was a Cherokee-class 10-gun brig-sloop of the Royal Navy. She was launched on 11 May 1820 from the Woolwich Dockyard on the River Thames, at a cost of £7,803. In July of that year she took part in a fleet review celebrating the coronation of King George IV of the United Kingdom in which she was the first ship to sail under the new London Bridge. After that there was no immediate need for Beagle so she "lay in ordinary" moored afloat but without masts or rigging. She was then adapted as a survey barque and took part in three expeditions. On the second survey voyage the young naturalist Charles Darwin was on board, and his work would eventually make the Beagle one of the most famous ships in history.
A portion of all sales are donated to help end violence against women. We sincerely thank you!