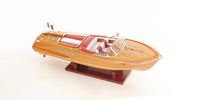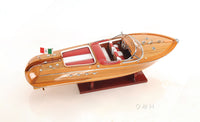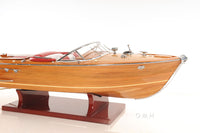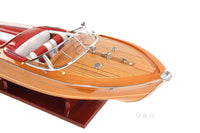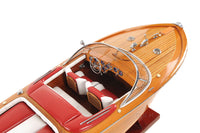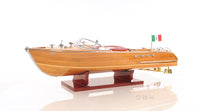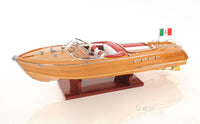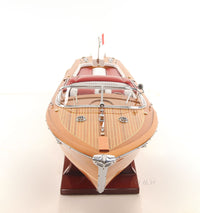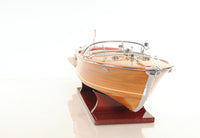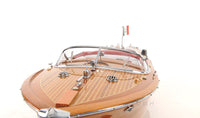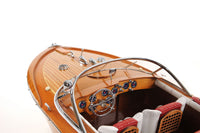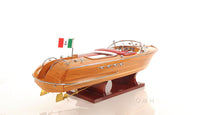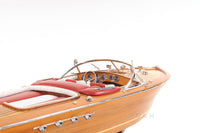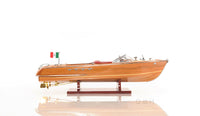 Aquarama Medium Model Ship
Hand made and fully assembled, this is a gorgeous model of the iconic Riva Aquarama boat. Built to scale with high-grade woods such as western red cedar, rosewood, and mahogany, this model boat is carefully constructed using historical photographs, drawings and original plans and produced with the plank-on-frame methodology identical to that of actual ships. 

A true work of art, this Riva Aquarama features a western red cedar and mahogany hull, accompanied by multiple-toned wood decking on the bow. Fine details including leatherwork and realistic gauges abound. Additionally, all fittings, including the windshield frame, wiper, navigation lights, mirror, and flagpole are made from stainless steel. The cockpit boasts two individually hand-stitched leather seats, as well as a rear passenger seat, and it has a stainless steel handrail on the swimming platform.
Dimensions: 27" length x 8" width x 7" tall
A little history:
The name Riva is synonymous with elegance, class, and premier European craftsmanship, Riva has been one of the world's leading producers in high quality speed boats since the 1950s. The Riva name dates back through the 1840s, where Pietro Riva began to fashion boats in a small northern Italian town called Sarnico. Pietro's grandson, Carlo, would be the figurehead of the Riva Speed Boating legend. In the 1950s, Carlo Riva began to produce elegant wooden speed boats of unquestionably superior style and quality. The Riva Aquarama was the undisputed flagship of Riva's line. Becoming more than just a boat, the beautiful Aquarama was a social symbol of the highest class, style, wealth, and most notably, power.
A portion of all sales are donated to help end violence against women. We sincerely thank you!