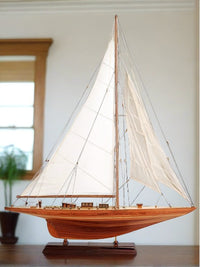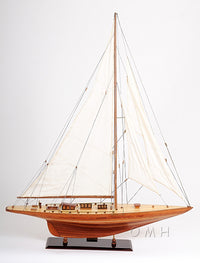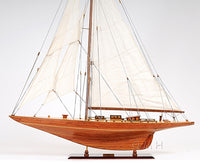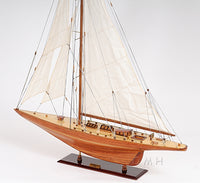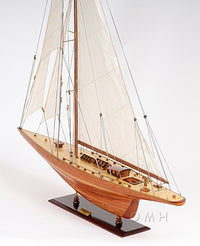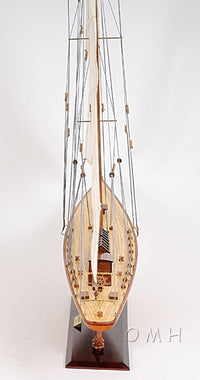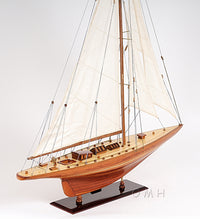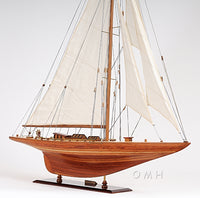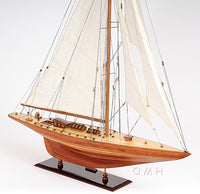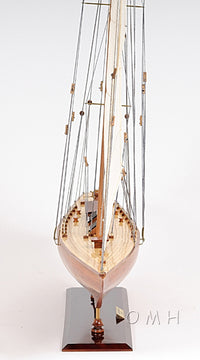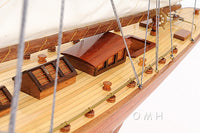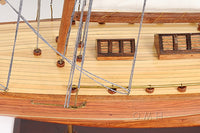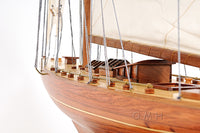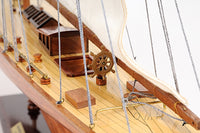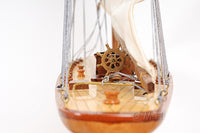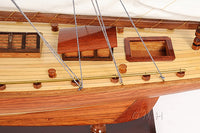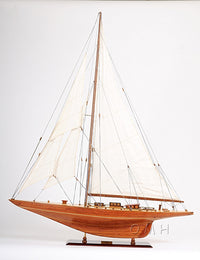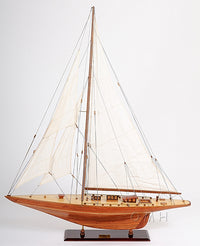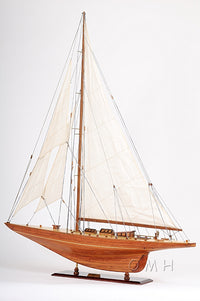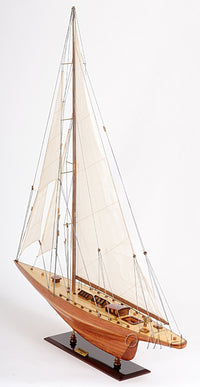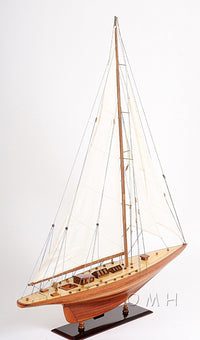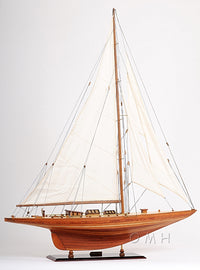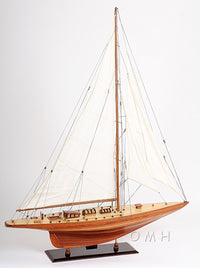 Shamrock Yacht L Model Ship
This gorgeous and detailed replica model boat of the 1930's J Class classic sailing yacht, Shamrock V, is handcrafted entirely from wood. Possessing a distinctive yachting legacy, these models make for a charming and sophisticated decoration in any home or office. Scaled accurately, these models utilize premium quality woods including western red cedar, rosewood and mahogany and are built with the time-honoured plank-on-frame approach, replicating the procedures of authentic ships. 

Hand-stitched sails, intricately rigged from the masthead to the wooden deck, are crafted with precision and symmetry, featuring a wooden cabin and companionway around the mid-deck area, and a metal steering wheel placed atop the rudder. Contrasting the hull, a waterline inlay adds an elegant simplicity, while the stitched sails and rigging contribute to a classic image of a sailing vessel.

Dimensions: 39.5" length x 7" width x 48.5" tall
A little history:
Shamrock was a racing yacht built in 1898 that was the unsuccessful Irish challenger for the 10th Americas Cup in 1899 against the United States defender, Columbia. Shamrock was designed by third-generation Scottish boatbuilder, William Fife III, and built in 1898 by J. Thorneycroft & Co., at Church Wharf, Chiswick, for owner Sir Thomas Lipton of the Royal Ulster Yacht Club. She was skippered by Captain Archibald "Archie" Hogarth. She sailed to New York for the Americas Cup race in the summer of 1899. The Cup defender Columbia beat Shamrock in all three races. She returned to Britain in the autumn of 1899 and was subsequently refitted by Lipton and used as a "trial horse" to test the later challengers, Shamrock II, Shamrock III, and Shamrock IV.
A portion of all sales are donated to help end violence against women. We sincerely thank you!