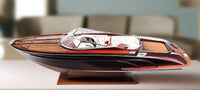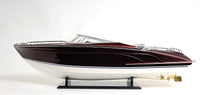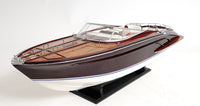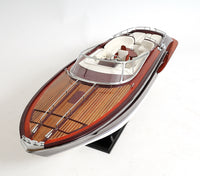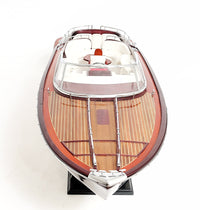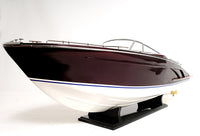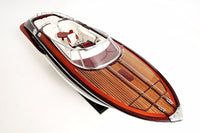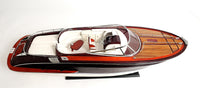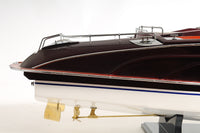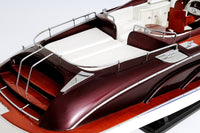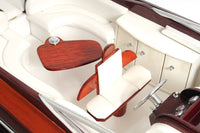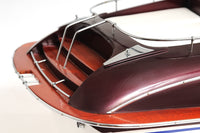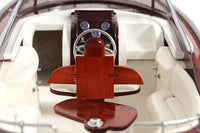 Rivarama E.E. Model Boat
This is an exclusive edition of the Riva Rivarama, beautifully handcrafted with rosewood, mahogany, teak and exclusively purple heart.
The hull is constructed using a plank on frame method, each strip of exotic wood is carefully joined together to form a smooth hull. The ship has a lustrous color of white and black with amazing details such as all white leather seats, wooden coffee table, wooden cabinet, colorful navigation gauges, shiny metal steering wheel, metal horns, metal rails surrounding the boat, clear windshield with metal frames, painted black and white interior and much more.
All these detailed ornaments contribute to an astounding wooden Riva Rivarama. In addition, a detachable wooden stand comes standard with this model and comes ready to be displayed.
Dimensions: 37" length x 10.5" width x 11" tall
A little history:
The name Riva is synonymous with elegance, class, and premier European craftsmanship. Carlo, would be the figurehead of the Riva Speed Boating legend. In the 1950s, Carlo Riva began to produce elegant wooden speed boats of unquestionably superior style and quality. The Riva Aquarama was the undisputed flagship of Riva's line. Becoming more than just a boat, the beautiful Aquarama was a social symbol of the highest class, style, wealth, and most notably, power. Based on the Aquarama, the Riva Rivarama is a supreme class open cruiser and a design masterpiece. Every detail on the Riva Rivarama is beyond exceptional and she provides tremendous comfort and an abundance of options over her entire 44 feet of length. Again, Riva accentuates the use of exotic and precious materials, as is customary for all of their speedboats, the most luxurious of their class.
A portion of all sales are donated to help end violence against women. We sincerely thank you!