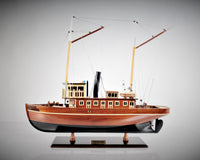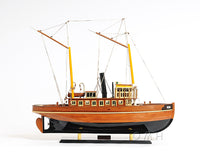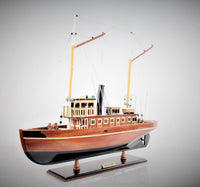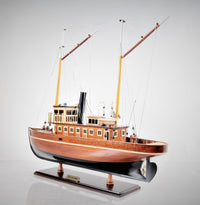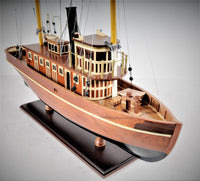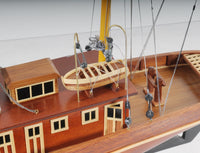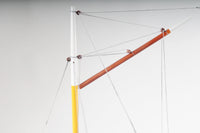 Hand Crafted Seguin Tugboat Model Boat
This handcrafted model of the Seguin tug boat reminds me of visiting my childhood friend's cottages. Everyday we would hear the Seguin horn and run to the dock to watch it sail by. This model boat is crafted with strips of mahogany and teak and built using real plank on frame methods. Finished with amazing details on the windows and deck area and includes the wonderful masts. The model ship Seguin comes attached to the base stand with nameplate.
Dimensions: 26" length x 6" wide x 23" tall
A little history:
The Seguin Tugboat was launched in Maine in 1884. Named after Seguin Island at the mouth of the Kennebec River, the Seguin at one time was our nation's oldest operating steam powered tugboat. She spent her first 20 years towing wooden sailing vessels up and down the Kennebec River and towing cargo barges along the Atlantic coast, from Maine to Virginia. In the early 1900s, she became a New York harbor tug, finally returning to an active career in Maine until retiring in 1967. During restoration by the Maine Maritime Museum, her hull was found to be hopelessly rotted, and, with deep regret, the museum scrapped her.
A portion of all sales are donated to help end violence against women. We sincerely thank you!